People
22nd July 1966
Page 40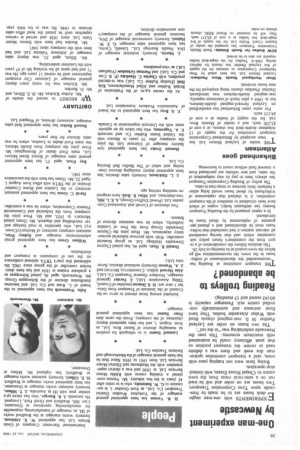 Page 40, 22nd July 1966 —
People
Close
D. R. Vernon has been appointed general manager of the Yorkshire Woollen District Transport Co. Ltd., as from October 1, in succession to G. W. Battensby, who is to retire after 45 years in the bus industry. Mr. Vernon completed a training course with Ribble Motor Services Ltd. in 1950 and was a district superintendent with the Maidstone and District Motor Services Ltd. from 1951 to 1954. Since then he has been general manager of the Mexborough and Swinton Traction Co. Ltd.
Leonard Sunter is to relinquish his position as managing director of Sumer Bros. Ltd., as from August 1, and has been appointed deputy chairman of the company. From the same date Peter Sunter has been appointed general manager.
Included among those elected to serve on the Council of the Institute of Transport from October 1 next are: D. S. Deacon (member of Council, Tilling Association Ltd.), J. Forster (general manager. Northern General Transport Co. Ltd.), Alan Havard (editor, COMMERCIAL MoroR) and J. A. Watson (formerly technical director, Scruttons Ltd.).
Donald B. Hunt, aged 46, has joined Clayton Dewandre Holdings Ltd. as group financial controller. With wide previous industrial accountancy experience, Mr. Hunt joins the Clayton Dewandre Group from the Port of London Authority, where he was assistant director of finance.
Two directors of Corral] and Associated Companies Ltd. (Powell Duffryn Group), A. E. L. Hill, vice-chairman, and Miles B. Reid, have resigned on reaching retiring age.
J. L. Dickinson, formerly sales director, has been appointed deputy managing director (marketing and sales) of The Skefico Ball Bearing Co. Ltd.
Howard Drake has been appointed tyre factory manager of Uniroyal Ltd. He joins the company after 10 years in Mexico with the United States Rubber Co. and succeeds F. A. Vagerman, who has taken up an appointment with the Uniroyal organization in Canada.
F. S. Bray has been appointed to the board of Automotive Products Association Ltd.
At the recent a.g.m. of the Federation of British Rubber and Allied Manufacturers, Eric Holt (Dunlop Rubber Co. Ltd.) was re-elected president, with Charles C. Hawkins (P. B. Cow and Co. Ltd.) and Norman Grimshaw (Vitafoam Ltd.) as vice-presidents.
J. Morris, formerly technical manager of INA Needle Bearings Ltd., Llanelli, Carms, has been appointed sales manager. G. F. W. Hahne!, formerly commercial manager of INA, becomes general manager of the company's new automation division. International Harvester Company of Great Britain Ltd. has appointed W. E. Atkinson, formerly works manager at the Bradford works of 1H, as manager of manufacturing, responsible for manufacturing operations at Doncaster, Carr Hill, Bradford and Orrell Park, Liverpool. He succeeds J. R. Boerger, who has taken up a similar post with IH irt Australia. J. T. Manes, formerly assistant works manager at Doncaster, has been appointed works manager at Bradford. H. E. Gilbert, formerly assistant works manager at Bradford. has replaced Mr. MiMes at Doncaster.
Felix Wentworth has been appointed to the board of L. Rose and Co. Ltd. and becomes distribution director of the Schweppes Group. Mr. Wentworth, aged 36, joined Schweppes as a graduate trainee in 1954 and has been distribution controller of the group since 1962. He addressed this year's TRTA national conference on the use of computers in transport and distribution.
William Green has been appointed grotip administration manager and Sydney Price, assistant company secretary of Morton's (Coventry) Ltd., who specialize in road haulage and car marshalling and dispatch. Mr. Green joined Morton's in 1935, and Mr. Price joins the company from the Industrial and Commercial Finance Corporation, where he was a controller.
David C. Green has been appointed assistant secretary to the London and Home Counties' division of the TRTA with effect from August 1. Aged 23, Mr. Green has been with the association since 1961.
Ray Frost, aged 37, has been appointed general sales manager of Bristol Street Motors Ltd., main Ford dealer of Birmingham. Mr. Frost joins the company from Zenith Motors, the main Ford dealer in London. where he was sales director for four years.
Russell Barker has been appointed field sales manager. accessory division, of Wingard Ltd.
Tags
People
:
Gilbert
,
David C. Green
,
W. E. Atkinson
,
Miles B. Reid
,
J. Morris
,
F. S. Bray
,
J. Forster
,
Peter Sunter
,
Russell Barker
,
Felix Wentworth
,
D. R. Vernon
,
Eric Holt
,
Doncaster
,
William Green
,
J. T. Manes
,
F. A. Vagerman
,
J. R. Boerger
,
Charles C. Hawkins
,
Howard Drake
,
Orrell Park
,
G. W. Battensby
,
Carr Hill
,
Sydney Price
,
Norman Grimshaw
,
Donald B. Hunt
,
Leonard Sunter
,
Alan Havard
,
Ray Frost
,
Bradford Park