LIMINATE WASTEFUL OMPETITION"
22nd July 1966
Page 39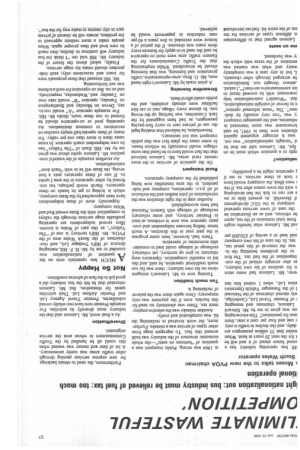 Page 39, 22nd July 1966 —
LIMINATE WASTEFUL OMPETITION"
Close
ight nationalization out: bus industry must be relieved of fuel tax: too much itional operation
c Moses talks to the new PVOA chairman South Wales operator HE bus operating industry has a ;ound future ahead of it and will be
t for the next 20 years at least. When nsider that 35 million passengers are daily, and the decline in traffic is only -1 one and four per cent a year, there tuse for pessimism'? This encouraging Ice was given to me by Mr. Edward
Lainson, chairman and managing r of Premier Travel Ltd., Cambridge, wly elected chairman of the National 1 of the Passenger Vehicle Operators Rion Ltd., when I visited him last 'ever, Mr. Lainson had some stern n for sections of his own industry, as also strongly critical of the conimposition of the fuel tax. The first to the problems besetting the in was the removal of this penal tax, me. In the case of his own company mid lead to a saving of £20,000 per ced Mr. Lainson what benefits might from total remission of the tax, apart he obvious, and as an illustration he the case of town services operated
company in the GLC development A. Haverhill. At present little or no
s are run to link the fast developing s with the town centre after tea. If the c were lifted, the company would have r look at these services, to see if ; operation might be a possibility.
nalization?
.eply to a question which must be on lips, Mr. Lainson told me that he
d "straight nationalization" was out.
was stronger argument against alization now than in 1947, he said iovernment was more interested in ndustries, and the passenger transport .y was "run very soundly by dedimen". The "most informed opiniona in favour of outright nationalization, ded. "Wouldn't nationalization help overnment with, its avowed intent to ize unremunerative services?", I asked. _ainson thought not. Subsidization be arranged through other channels. 3, but in any case it was completely ;ssary and what was wanted was emission of the taxes with which the ry was burdened.
ms on seats
Lainson agreed that to differentiate n different types of services for the ion of the extra 6d. fuel tax introduced in 1964 was wrong. Public transport was a question of "bottoms on seats"—the whole economic structure of the industry was built around this fact. To segregate stage from other types of service was a mistake. Furthermore, the work involved in reclaiming the 6d. was complicated and costly.
Another mistake was the selective employment tax. There was absolutely no need for this burden, even if the payment was only temporary. Once again there was the palaver of reclaiming it.
Too much tradition
Turning now to Mr. Lainson's stringent views on his own industry: there was far too much traditional operation, he said, and this led to wasteful competition. Operators were reluctant to give up territory, yet voluntary exchange of mileage could lead to considerable economies or operation.
There had, however, been some progress in the past year in this direction. A much better feeling between independent and company operator was now in evidence, at least in Premier territory, and some voluntary exchange of mileage with Eastern National had been accomplished.
Another step in the right direction was the introduction of joint leaflets and the inclusion of all p.s.v. operations, company and independent, in the area timetables now being published by the company operators.
Rural transport
On the question of services to the more remote rural areas, Mr. Lainson believed that the fact would have to be faced that some villages would eventually be without buses. In some cases the plain fact was that public transport was not necessary.
Nevertheless, he believed that making legal the use of private cars to carry fare-paying passengers, as had been suggested by the Jack Committee, was barking up the wrong tree. In almost every village, taxi or car hire facilities were already available, and the public could afford them.
Streamline licensing
A point made by Mr. Lainson's right-hand man, Mr. G. Bray, area representative, traffic promotion and licensing, was that licensing should be streamlined. Whilst emphasizing that the Traffic Commissioners for the Eastern traffic area were most co-operative he said the need to re-apply for licences every three years was tiresome. If the period of a licence were extended to five years a 40 per cent reduction in paperwork would be achieved. Furthermore, the need to obtain backings for new express services passing through other traffic areas was surely unnecessary. A lot of time and money was wasted when this could all be handled by the Traffic Commissioners in whose area the service originated.
Diversification
As a final word, Mr. Lainson said that the industry must diversify its activities. For example Premier now have two wholly owned subsidiaries, Premier Travel Agency Ltd. and Premier Airlines Ltd. Their activities speak for themselves. But Mr. Lainson reiterated that he felt the bus industry did a good job in the face of adverse conditions.
Not So Happy
AMUCH less optimistic note on the question of nationalization was sounded to me by Mr. H. F. Hill, managing director of Hill's Tredegar Ltd., and vicechairman of the South Wales area of the PVOA. Mr. Hill's territory is one of "The Valleys", as this part of Wales is known. frere several independents are operating profitable stage services through the valleys in competition with the State-owned Red and White company.
Apparently most of these independents have been approached by the State company, which is itching to get its hands on these operators. Harsh words perhaps, but confirmed by other operators in the area I spoke to. If one of these operators puts a foot wrong, the State will be in with "back door" nationalization.
An excellent example of the wasteful competition Mr. Lainson spoke about was given me by Mr. Hill. Each of "The Valleys" has its own independent coach operator. In some cases there is more than one per valley. Yet many of them operate half-empty coaches on excursions to common destinations. An operating pool or co-operative should be formed to run these tours. thinks Mr. Hill.
For example operator "A" would run to, say, Devon on Monday and Southampton on Tuesday, operator "B" would take over on Tuesday and, Wednesday, respectively, and so on. But co-operation for such a scheme was not forthcoming.
Mr. Hill stressed that these proposals were for tours and excursions only; each independent should retain his stage services.
Finally, asked about the future of the industry Mr. Hill told me "I think the bus industry will continue to decline, then reach its own level and then prosper again. When people make a more realistic approach to the problem, streets will be cleared of private cars in city centres to make way for the bus".