Municipal crews get 9s. 3d.
22nd July 1966
Page 36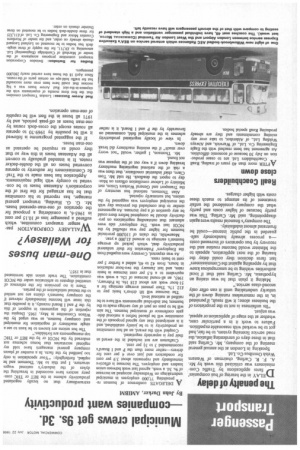 Page 36, 22nd July 1966 —
Municipal crews get 9s. 3d.
Close
—companies want productivity
By John Darker, ANI1BM ADELEGATE conference of busmen re
presenting 77,000 employees in municipal undertakings on Wednesday accepted an increase of 9s. 3d. a week, agreed last week between union leaders and employers. The increase is effective immediately and represents about 3.9 per cent for conductors and just over 4 per cent for drivers—rather more than the P and I Board's recommended 3 to 3+ per cent.
Craftsmen are not included in the award as their pay is separately negotiated.
Coupled with the award, an ad hoc committee on productivity is to be jointly established, and it is anticipated that any agreed proposals of the committee will be placed before a national delegate conference of municipal busmen. The aim will be to pass on part of any savings made to the busmen; but individual agreements will have to be ratified at national level.
The increase will lift driver's basic pay to £12 17s. Their present average earnings for a 51-hour week are about £18 16s. In February, 1965, an all-round increase of 15s. a week was equivalent to a 6.5 per cent increase in basic rates, and last January the two-hour reduction in hours, from 42 to 40, added a further 5 per cent to basic rates.
As was expected, Coventry were expelled from the Employers' Federation for their unilateral productivity deal, which jacked up average busmen's earnings to around £1,000 a year.
Meanwhile, the claim of 110,000 provincial busmen for higher pay was rebuffed by the NCOI last week. The employers' side were adamant that outstanding negotiations on productivity should be completed before there could be any question of a pay increase. An agreement similar to that concluded the previous day with the municipal employers was suggested by the unions, but summarily rejected.
Alan Thomson, national bus secretary of the Transport and General Workers Union, met Ministry of Labour conciliation officers on Monday to report the deadlock. He told Mr. Tom Claro, chief industrial conciliator, that there was a risk of the national negotiating machinery breaking down if a way out of the impasse was not found.
Mr. Thomson, I gather, would "not worry over much" if the existing machinery did break down.
In view of locally negotiated productivity schemes in the municipal field, commented on favourably by the P and I Board, it is rather extraordinary that no locally negotiated productivity scheme in the BET or THC company sectors have succeeded in breaching the dykes of the industry's national wages structure. I put this to Mr. Thomson and he replied, forthrightly: "Your speculation is only too justified by the facts. In a number of places company general managers have told my regional secretaries that bonus schemes not endorsed by the NCOI or by the BET or THC top managements are forbidden."
The bus unions are known to be keen to see a single machinery of negotiation for municipal and company busmen, as was urged by the Wilson Committee in May, 1965. Despite the rejection of the arguments in support of this by the P and I Board recently, it is possible that this issue will become immediately relevant if the company busmen's claims are not settled to the mutual satisfaction of the parties.
There is no provision for the reference of unsettled disputes to arbitration under the NCOI constitution. The trade union side terminated that in 1957.