Difficulties over Spanish traffic
22nd July 1966
Page 34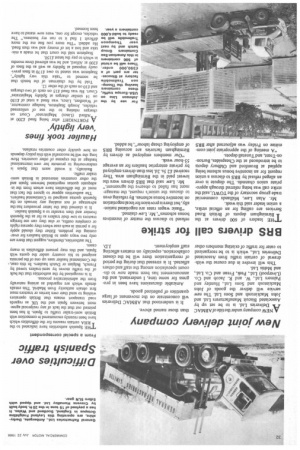 Page 34, 22nd July 1966 —
Difficulties over Spanish traffic
Close
From a special correspondent
THE Spanish authorities have indicated to the
RHA certain reasons for the difficulties which have been recently encountered in connection with British semi-trailer traffic to Spain. It has been pointed out that the lack of any reciprocal agreement between Spain and the UK as regards road transport means that British operators wishing to send their own lorries or tractors must first obtain authority from Madrid. This entails details which are regarded as arising naturally from the administrative process.
It is recognized by the authorities that the hulk of the traffic moves by semi-trailers towed by French. Belgian or Dutch hauliers. in this case,• the Continental haulier uses up one of the permits assigned to his country under the quota with Spain, and this may present difficulties in many cases.
The authorities, therefore, suggest that there are only two ways open to British hauliers for overcoming the problem. Either they should apply for a permit in each case where they operate rigids or complete outfits, or else they can use foreign tractors to tow their trailers as far as the Spanish frontier and then transfer to a Spanish haulier.
It is claimed that the Latter procedure has the advantage of not making any inroads on the Spanish quotas assigned to Continental hauliers.
The authorities appear to ignore the fact that most of the difficulties have arisen from the inadequate quotas negotiated between Spain and the other countries interested in British semitrailer traffic.
Basically, it would seem that Spain is endeavouring to promote her own international haulage at the expense of other countries. How long she will be successful with this policy depends on how quickly other countries retaliate.