New Atkinson Lorry has Underfloor Engine
22nd July 1955
Page 44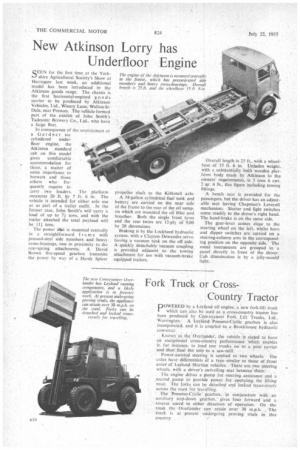 Page 44, 22nd July 1955 —
New Atkinson Lorry has Underfloor Engine
Close
SEEN for the first time at the Yorkshire Agricultural Society's Show at Harrogate last week, an additional model has been introduced in the Atkinson goods range. The chassis is the first horizontal-engined goods carrier to be produced by Atkinson Vehicles, Ltd., Winery Lane. Walton-leDale, near Preston. The vet-tide formed part of the exhibit of John Smith's Tadeaster Brewery Co., Ltd.. who have a large fleet.
In consequence of the employment ot a Gardner six
ey I ndered underfloor engine. the Atkinson standard cab on this model gives comfortable accommodation for three, a matter of some importance to brewers and those others who frequently require to zarry two loaders. The platform measures 20 ft. by 7 ft. 6 in. The vehicle is intended for either solo use or as part of a trailer outfit. In the former case. John Smith's will carry a load of up to 71 tons, and with the trailer attached the total payload will be lI tons.
The power tilkit is mounted centrally in a straightforward frame with pressed-steel side members and heavy cross-bracings, two in proximity to the rear-spring attachments. A David Brown five-speed gearbox transmits the power by way of a Hardy Spicer propeller shaft to the Kirkstall axle.
A 54-gallon cylindrical fuel tank and battery are carried on the near side of the frame to the rear of the oil sump, on which arc mounted the oil filler and breather. Both the single front tyres and the rear twins are 12-ply of 9.00 by 20 dimensions.
Braking is by the Lockheed hydraulic system, with a Clayton Dewandre servo having a vacuum tank on the off side. A quickly detachable vacuum coupling is provided adjacent to the towing attachment for use with vacuum-brake equipped trailers. Overall length is 25 ft., with a wheelbase of 15 ft. 6 in. Unladen weight, with a substantially built wooden platform body made by Atkinson 'to the owners' requirements, is 5 tons 6 cwt. 2 qr. 4 lb., this figure including towing fittings.
A bench seat is provided for the passengers, but the driver has an adjustable seat having Chapman's Leveroll mechanism. Starter and light switches come readily to the driver's right hand. The hand-brake is on the same side.
The gear-lever comes close to the steering wheel on the left, whilst horn and dipper switches are carried on a steering-column arm in the corresponding position on the opposite side. The usual. instruments are grouped in a panel directly in front of the driver. Cab illumination is by a jelly-mould light.