Out and Home.—By "The Extractor."
22nd January 1914
Page 8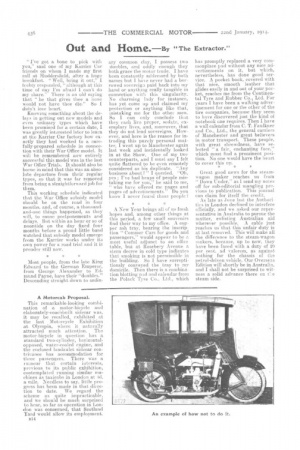 Page 8, 22nd January 1914 —
Out and Home.—By "The Extractor."
Close
"I've got a hone to pick with you," said one of my Karrier Car friends on whom I made my first call at Huddersfield, after a huge breakfast. "Well, bring it out," I feebly responded, "although at this time of day I'm afraid 1 can't do my share." There is an old saying that " he that gives thee a. bone would not have thee die." So I didn't lose heart.
Knowing something about the delays in getting out new models and even ordinary types which have been promised for acertain date, I was greatly interested later to learn at the Karrier Car factory how exactly they had worked to a (-lavefully-prepared schedule in connection with their War Office model. It will be remembered new entirely successful this model -was in the last War Office Trials. It should also be borne in mind that this was an absolute departure from their regular types, so -that it was far removed from being a straightforward job for them.
This working schedule indicated that the War Office subsidy model should be on the road in four months, and, of course, a thousandand-one things happened, as they will, to cause postponements and delays. But within an hour or so of noontide on the day fixed four months before a. proud little band watched that subsidy model emerge from the Karrier works under its own power for a road trial and it is prouder still now.
Most people, from the late King Edward to the German Emperor, from George Alexander to Ed, mund Payne-, have their "doubles." Descending straight down to orti.in
ayy common clay, I possess two doubles, and oddly enough they both grace the motor trade. I have been constantly addressed by both names but I have never had a borrowed sovereign paid back into my hand or anything really tangible in connection with this singularity. Na charming lady for instance, has yet come up and claimed my protection or anything like that, mistaking me for the other men. So I can only conclude that they each live proper, sedate, exemplary lives, and, moreover, that they do not lend sovereigns. However, and here is the reason for intruding this purely personal matter. I went up to Manchester again last week and incidentally looked in at the Show. One of my two counterparts, and I must say I felt quite flattered to be even remotely considered as his duplicate. "Any business about " I queried. "Oh, yes ; I've had heaps of people mistaking me for you," he said to me, "who have offered me pages and pages of advertisements.' Do you know I never found those people'?
A New Year brings all of us fresh hopes and, among other things at this period, a few small souvenirs find their way to my office. A copper ash tray, bearing the inscription " Commer Cars for goods and passengers," would appear to be a most useful adjunct to an office table, but at Rosebery Avenue a stern decree in cold type indicates that smoking is not permissible in the building. So I have surreptitiously conveyed the tray to my domicile. Then there is a combination blotting pad and calendar from the Polack Tyre Co., Ltd., which
has promptly replaced a very commonplace pad without any nice .advertisements on it, but which, nevertheless, has done good service. A pocket book, covered with that nice, smooth leather that glides easily in and out of your pocket, reaches me from the Continental Tyre and Rubber Co., Ltd. For years I have been a walking advertisement for one or the other of the tire companies, because they seem to have discovered just the kind of notebook one requires. Then I have a wall calendar from C. T. Faulkner and Co., Ltd., the general carriers of Manchester and great believers in motor transport. These people, with great shrewdness, have selected "a fair, enchanting face," which must find a prominent position. No one would have the heart to cover this up.
Great good news for the steam
wagon maker reaches us from " Down Under," as I send my notes off for sub-editorial ma.ngling previous to publication. This journal can claim, for itself the credit.
As late as June last the Authorities in London declined to interfere officially, a-nd we asked our representative in Australia to pursue the matter, enlisting Australian aid wherever possible. A cable just reaches us that this unfair duty is at last removed. This will make all the difference to the steam-wagon makers, because, up to now, they have been faced with a duty of 20 per cerfb. ad valorem, as against nothing for the chassis of the petrol-driven vehicle. Our Overseas Edition will shortly be in Australia, and I shall not be surprised to witness a solid advance there on te steam side.