In Public Service.
22nd January 1914
Page 13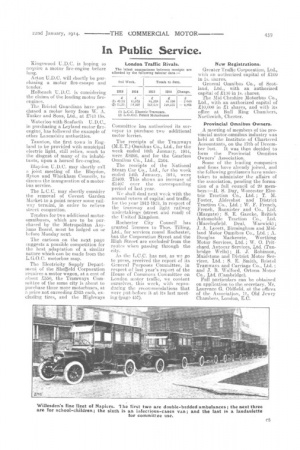 Page 14
Page 13, 22nd January 1914 —
In Public Service.
Close
Kingswood U.D.C. is hoping to acquire a motor fire-engine before long.
Acton U.D.C. will shortly be purchasing a motor fire-escape and tender.
Holbeach U.D.C. is considering the claims of the leading motor fireengines.
The Bristol Guardians have purchased a motor lorry from W. A. Tasker and Sons, Ltd., at 2743 I5s.
Waterloo-with-Seaforth U. D. C., in purchasing a Leyland motor fireengine; has followed the example of other Lancashire authorities.
Taunton, the first town in England to be provided with municipal electric light, still relies, much to the disgust of many of its inhabitants, upon a horsed fire-engine.
Blaydon U.D.C. may shortly call a joint meeting of the Bla.ydon, Ryton and Whickham Councils, to discuss the inauguration of a motorbus service.
The L.C.C. may shortly consider the removal of Covent Garden Market to a, point nearer some railway termini, in order to relieve street congestion.
Tenders for two additional motoromnibuses, which are to be purchased by the Metropolitan Asylums Board, must be lodged on or before Monday next.
The cartoon on the next page euggests a possible competition for the best adaptation of a similar nature which can be made from the L.G.O.C. motorbus map.
The Electricity Supply Department of the ShelDeld Corporation requires a motor wagon, at a cost of about 2550, the Tramways Committee of the same city is about to purellase three more motorbuses, at a price not exceeding 2825 each, excluding tires, and the Highways Committee has authorized its surveyor to purchase two additional motor lorries.
The receipts of the Tramways (M.E.T.) Omnibus Co., Ltd., for the week ended 10th Jammu, 1914, were 28266, and for the Gearless Omnibus Co., Ltd., £504.
The receipts of the National Steam Car Co., Ltd., for the week ended 14th January, 1914, were 2.3409. This shows an increase of 21407 over the corresponding period of last year.
We shall deal next week with the annual return of capital and traffic, for the year 1912-1913, in respect of the tramway and light railway undertakings (street and road) of the United Kingdom.
Rochester City Council has granted licences to Thos. Tilling, Ltd., for services round Rochester, but the Corporation Street and the High Street are excluded' from the routes when passing through the City.
As the L.C.C. has not, as we go to press, received the report of its General Purposes Committee, in respect of last year's report of the House of Commons Committee on London motor traffic, we content ourselves, this week, with reproducing the recommendations that were put before it at its last meeting (page 457). Greater Traffic Corporation, Ltd., with an authorized capital of 2100 in is. snares.
General Omnibus Co., of Scotland, Ltd., with an authorized capital of 2100 in is. shares, The iid-Cheshire Motorbus Co., Ltd., with an authorized capital of 210,000 in 21 shares, and with its office at Bull Ring Chambers, North wich, Chester.
Provincial Omnibus Owners.
A meeting of members of the provincial motor-omnibus industry was held at the Institute of Chartered Accountants on the 17th of December last. ft was then decided to form the Provincial Omnibus Owners' Association.
Some of the leading companies and firms have already joined, and the following gentlemen have undertaken to administer the affairs of the association, pending the formation of a full council of 20 members :—II. S. Day, Worcester Electric Traction Co., Ltd. ; T. M. Foster, Aldershot and District Traction Co., Ltd. ; W. F. French, French, Bannister and Co., Ltd. (Margate); S. E. Garcke, British Automobile Traction Co., Ltd. (Macclesfield, Deal, Warwick); J. A. Lyeett, Birmingham and Midland Motor Omnibus Co., Ltd. ; A. -Douglas Mackenzie, Worthing Motor Services, Ltd. ; W. 0. Pritchard, Autocar Services, Ltd. (Tunbridge Wells) ; H. J. Robinson, Maidstone and District Motor Services, Ltd. ; S. E. Smith, Bristol Tramways and Carriage Co., Ltd. ; and J. B. 'Milford, Ortona Motor Co., Ltd. (Cambridge).
Full particulars can ho obtained on application to the secretary, Mr. Laurence G. Oldfield, at the offices of the Association, 1.1, Old Jewry Chambers, London, E.C.
Kendal Town Council has agreed with the Kirkby Lonsdale U.D.C., as. to fire calls and services in certain contingent circumstances,
To Use Old Plant.
Various fire brigades are making inquiries conceinirig second-hand motorbus chassis, with a view to thoir,use for the purpose of towing existing steam fire-engines. Viewed as a makeshift and a temporary expedient only, this course of action is generally to be condemned.
More Petrol Storage.
The existing licences for petrol storage at the L.G.O.C, depots in Warner Road, Camberwell, and CI own Terrace, Holloway, are about to be increased by 13,000 and 15,000 gallons, respectively, whilst the storage that is allowee to the British Motor Cab Co., Ltd., at Brixton Road, is to be increased from 7000 gallons to 15,000 gallons.
Metal Track-Troughs, Messrs. J. McGregor and Co., of Craighead Iron Works, Blantyre, Scotland, have for some years made and sold metal track-troughs for the special use of fire brigaides which have to answer calls in country areas. These troughways are made of high-tensile steel, in order to avoid buckling under load, and to ensure lightness. They have flushriveted, mild-steel crossbars at short intervals, at the base of the trough, and their object is to provide a safeguard against the risk of any fire-engine's sinking, or working itself, into soft ground.
A usual standard size is 5 ft. in length, with a width varying from 14,1 ins, to lilt,ins., so that one flanged plate may fit into another for convenience of carriage. Each plate weighs about 31 lb., and each will bear, without deformation, a wheel leaded to three tons. The flanges are from 2 ins. to 2;11 ins, deep, to provide additional
strength, to prevent the upturned edges from cutting the tires, and to allow easy lifting after use.
These track-troughs are not strong enough for bridging purposes, but one plate can be used to overlap another, and so to form a short track. We refer to some points connected with their use in our second leading article this week, and we certainly think that they should also appeal" in particular branches of employment, to builders and contractors, to the military authorities, and to some Colonial purchasers. We learn from Captain Despard, of Hamilton, N.B., that their use has been of the greatest advantage to the Lanark County Brigade.
As we go to press, we have received, in response to an inquiry, the following telegraphic communication from Capt. Despard: "We continue to carry the steel troughs on all the engines and find them useful.'
Tags
Organisations
:
Lanark County Brigade
,
House of Commons Committee on London
,
Provincial Omnibus Owners' Association
,
Highways Committee
,
Rochester City Council
,
Tramways Committee
,
Institute of Chartered Accountants
,
Public Service
,
General Purposes Committee
,
E.C. Kendal Town Council
,
Electricity Supply Department of the ShelDeld Corporation