Peugeot boost from partners
22nd August 1996
Page 14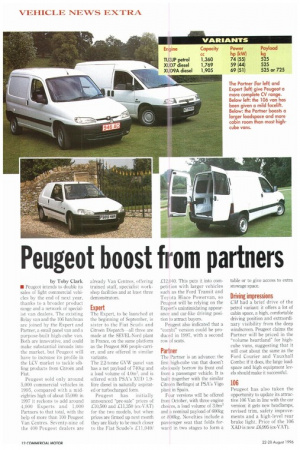 Page 14, 22nd August 1996 —
Peugeot boost from partners
Close
by Toby Clark • Peugeot intends to double its sales of light commercial vehicles by the end of next year, thanks to a broader product range and a network of specialist van dealers. The existing Relay van and the 106 hatchvan are joined by the Expert and Partner, a small panel van and a purpose-built high-cube van. Both are innovative, and could make substantial inroads into the market, but Peugeot will have to increase its profile in the LCV market to tackle sibling products from Citroen and Fiat.
Peugeot sold only around 5,000 commercial vehicles in 1995, compared with a mideighties high of about 15,000: in 1997 it reckons to add around 4,000 Experts and 1,000 Partners to that total, with the help of more than 100 Peugeot Van Centres. Seventy-nine of the 400 Peugeot dealers are already Van Centres, offering trained staff, specialist workshop facilities and at least three demonstrators.
Expert
The Expert, to be launched at the beginning of September, is sister to the Fiat Scud() and Citroen Dispatchall three are made at the SEVEL-Nord plant in France, on the same platform as the Peugeot 806 people-carrier. and are offered in similar variants.
The 2.2-tonne GVW panel van has a net payload of 740kg and a load volume of 4.0m3. and is offered with PSA's XUD 1.9litre diesel in naturally aspirated or turbocharged form.
Peugeot has initially announced "pre-sale" prices of £10,500 and £11,350 (ex-VAT) for the two models, but when prices are finned up next month they are likely to be much closer to the Fiat Scudo's 01211,040/ £12,040. This puts it into competition with larger vehicles such as the Ford Transit and Toyota Hiace. Powervan, so Peugeot will be relying on the Expert's unintimidating appearance and car-like driving position to attract buyers.
Peugeot also indicated that a "combi" version could be produced in 1997, with a second row of scats.
Partner
The Partner is an advance: the first high-cube van that doesn't obviously borrow its front end from a passenger vehicle. It is built (together with the similar Citroen Berlingo) at PSA's Vigo plant in Spain.
Four versions will be offered from October, with three engine choices, a load volume of 3.0m3 and a nominal payload of 600kg or 800kg. Novelties include a passenger seat that folds forward in two stages to form a
table or to give access to extra stowage space.
Driving impressions
CM had a brief drive of the petrol variant: it offers a lot of cabin space, a high, comfortable driving position and extraordinary visibility from the deep windscreen. Peugeot claims the Partner will be priced in the "volume heartland" for high. cube vans, suggesting that it will cost about the same as the Ford Courier and Vauxhall Combo: if it does, the large loadspace and high equipment levels should make it successful.
106
Peugeot has also taken the opportunity to update its attractive 106 Van in line with the car version: it gets new headlamps, revised trim, safety improvements and a high-level rear brake light. Price of the 106 XAD is now .C6,995 (ex-VAT).