A 3-cwt. Hydraulic Tailboard Loader
22nd August 1952
Page 40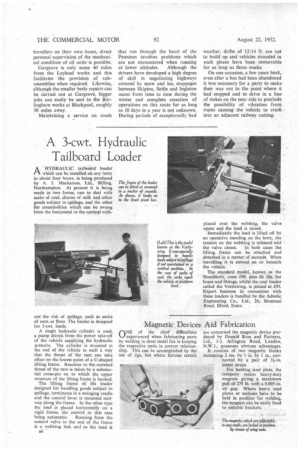 Page 40, 22nd August 1952 —
A 3-cwt. Hydraulic Tailboard Loader
Close
A HYDRAULIC tailboard loader IA which can be installed on any lorry in about four hours, is being produced by A, J. Mackaness, Ltd., Billing, Northampton. At present it is being made in two forms, one to deal with sacks of coal, churns of milk and other goods subject to spillage, and the other for commodities which can be swung from the horizontal to the vertical with
out the risk of spillage, such as sacks of corn or flour. The loader-is designed for 3-cwt. loads.
A single hydraulic cylinder is used, a pump driven from the power take-off of the vehicle supplying the hydraulic pressure. The cylinder is mounted at the end of the vehicle in such a way that the thrust of the ram can take effect on the lowest point of a U-shaped lifting frame. Reaction to the outward thrust of the ram is taken by a substantial cross-pin on to which the upper structure of the lifting frame is hooked.
The lifting frame of the loader designed for handling goods subject to spillage, terminates in a swinging cradle and the control lever is mounted midway along the frame. In the other type the load is placed horizontally on a rigid frame, the control in this case being automatic. Running from the control valve to the end or the 'frame is a webbing link and as the load is
B6 placed over the webbing, the valve opens and the load is raised.
Immediately the load is lifted off by an operative standing on the lorry, the tension on the webbing is released and the valve closes. In both cases the lifting frame can be attached and detached in a matter of seconds. When travelling it is stowed on or beneath the vehicle.
The standard model, known as the Shoulderhi, costs £90, phis £6 10s. for hoses and fittings, whilst the coal loader called the Vertiswing, is priced at £95. Export business in connection with these loaders is handled by the Adrolic Engineering Co., Ltd., 26, Montreal Road. Ilford, Essex.