Road Transport Rushes to Lynmouth's Aid
22nd August 1952
Page 33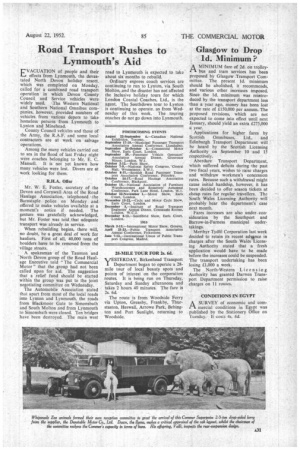 Page 33, 22nd August 1952 —
Road Transport Rushes to Lynmouth's Aid
Close
EVACUATION of people and their effects from Lynmouth, the devastated North Devon holiday resort, which was completed on Monday, called for a combined road transport operation in which Devon County Council and Service vehicles were widely used. The Western National and Southern National Omnibus companies, however, provided numbers of vehicles from various depots to take homeless persons from Lynmouth to Lynton and Minehead.
County Council vehicles and those of the Army, the R.A.F. and some local contractors are at work on salvage operations.
Among the many vehicles carried out to sea in the flood of last Friday night were coaches belonging to Mr. E. C. Mansell. It is not yet known how many vehicles were lost. Divers are at work looking for them.
R.H.A. Offer
Mr. W. E. Foster, secretary of the Devon and Cornwall Area of the Road Haulage Association, telephoned the Barnstaple police on Monday and offered to make vehicles available at a moment's notice if needed. The gesture was gratefully acknowledged, but Mr. Foster was told that adequate transport was already in service.
-When rebuilding begins, there will, no doubt, be a great deal of work for hauliers. First of all, 40,000 tons of boulders have to be removed from the village streets.
A spokesman of the Taunton and 'North Devon group of the Road Haulage Executive told "The Commercial Motor" that the group had not been called upon for aid. The suggestion that a relief fund should be started within the group was put to the joint negotiating committee on Wednesday.
The Automobile Association stated that apart from most of the local roads into Lynton and Lynmouth, the roads from Blackmoor Gate to Simonsbath and South Molton and from Lynmouth to Simonsbath were closed. Ten bridges have been destroyed. The main west road to Lynmouth is expected to take about six months to rebuild.
Ordinary express coach services are continuing to run to Lynton, via South Molton, and the disaster has not affected the inclusive holiday tours for which London Coastal Coaches, Ltd., is the agent, The Southdown tour to Lynton is continuing to operate, as from Wednesday of this week. The touring coaches do not go down into Lynmouth.
28-MILE TOUR FOR 29. 6d.
VESTERDAY, Birkenhead Transport 1 Department began to operate a 28mile tour of local beauty spots and points of interest on the corporation routes. It is being run on Thursday, Saturday and Sunday afternoons and takes 2 hours 40 minutes. The fare is 2s. 6d.
The route is from Woodside Ferry via Upton, Greasby, Frankby, Thur. staston, Heswall, Arrowe Park, Bebington and Port Sunlight, returning to Woodside.