Glasgow to Drop Minimum ?
22nd August 1952
Page 33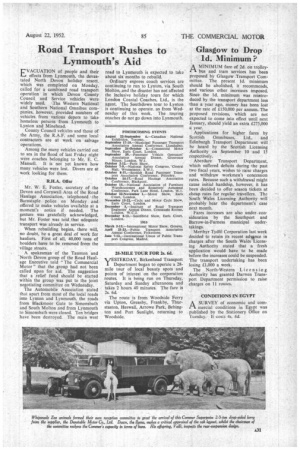 Page 33, 22nd August 1952 —
Glasgow to Drop Minimum ?
Close
A MINIMUM fare of 2d. on trolley1-1 bus and tram services has been proposed by Glasgow Transport Committee. The present Id. minimum should be abolished, it recommends, and various other increases imposed. Since the Id. minimum was reitytroduced by the transport department less than a year ago, money has been lost at the rate of £150,000 per annum. The proposed revisions, which are not expected to come into effect until next January, should yield an extra £275,000 a year.
Applications for higher fares by Scottish Omnibuses, Ltd., and Edinburgh Transport Department will be heard by the Scottish Licensing Authority on September 10 and 15 respectively.
Aberdare Transport Department, which suffered deficits during the past two fiscal years, wishes to raise charges and withdraw workmen's concession rates. Because such a withdrawal might cause initial hardship, however, it has been decided to offer season tickets at cheap rates for regular travellers. The South Wales Licensing Authority will probably hear the department's case next month.
Fares increases are also under consideration by the Southport and Barrow-in-Furness municipal undertakings.
Merthyr Tydfil Corporation last week decided to retain its recent achence in charges after the South Wales licensing Authority stated that a fresh application would have to be made before the increases could be suspended. The transport undertaking has been losing 0,000 a week.
The North-Western Licens in g Authority has granted Darwen Transport Department permission to raise charges on 11 routes.
CONDITIONS IN EGYPT
A SURVEY of economic and collar-t mercial conditions in Egypt was published by the Stationery Office on Tuesday. It costs 4s. 6d.