LOA Sof TROU LE
22nd April 1999
Page 40
Page 41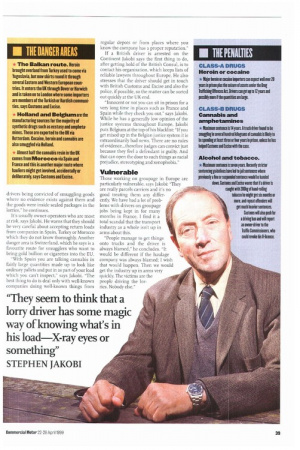 Page 40, 22nd April 1999 —
LOA Sof TROU LE
Close
As the Government announces the appointment of a "Smuggling Czar" to tackle the massive trade in illicit tobacco, Customs and Excise estimates that L1,2 billion in revenue is lost each year through the crossChannel smuggling of both alcohol and tobacco. These are bulky items, difficult to hide compared with drugs, and the best way to shift large amounts of illegal goods like these is in trucks. And it's a growing trade, says Customs and Excise spokesman Mark Thompson.
Problem
"The whole thing to do with alcohol and tobacco did not exist a few years ago but it is a major problem at the moment and undoubtedly hauliers are involved, usually deliberately because, with alcohol in particular, it's a bulk cargo and they are not trying to disguise it. But we have seen some sophisticated concealment of cigarettes which is approaching that which you get with class-A drugs," says Thompson.
Cigarette smuggling is an area of considerable growth, brought into the EU from Eastern Europe. Price differences due to tax and the strong pound are driving the trade and Thompson says Customs regularly picks up large-scale shipments of cigarettes in lorries coming into Dover from Eastern Europe.
A year ago the Government announced a crack-down on bootleggers, and Customs and Excise pursues hauliers involved in this crime with persistence, says Thompson: "The maximum sentence for alcohol and tobacco smuggling is seven years and last year the Court of Appeal issued stricter sentencing guidelines to the Crown and Magistrate Courts, so currently by far the majority of sentences are prison terms. They may be short but they will be prison sentences nevertheless."
Customs and Excise warns that it will strike at peoples' livelihoods by automatically asking for driving bans and by writ ing to the Traffic Commissioners to oppose offenders' 0-licences. "We will also be asking the courts for compensation orders," says Thompson. This could include the seizing or freezing of assets, possibly including the operator's vehicle. "This is a way to get at people without necessarily putting them in prison and it sends a very strong deterrent to the industry," continues Thompson.
Since the crack-down, Thompson says detection rates have gone up enormously and the tax value of goods seized has more than doubled during the past financial year.
Customs and Excise officials are also cooperating with the police around Dover by attending roadblocks. While vehicles are checked for roadworthiness, Customs officers now look for bootleg alcohol and tobacco as well as rebated "red" diesel.
Overall the Customs and Excise department finds the haulage community a valuable ally in the war against smugglers and works with the Road Haulage Association and Freight Transport Association to combat the problem. Also hauliers and Ferry operators help by keeping a look-out for anything unusual and reporting it, says Thompson,
Bootleg
It's pretty hard for a driver to explain away a large consignment of bootleg alcohol or tobacco but a package of drugs, hidden deep inside the load on a trailer, is a different matter and must feature in every international truck driver's nightmares.
In these cases most drivers are innocent, says Stephen jakobi, director and founder of Fair Trials Abroad, a non-profit-making organisation set up to help EU citizens in trouble outside their own countries. He has been a criminal lawyer for 35 years and never has fewer than six cases of truck drivers detained under suspicion of smuggling on his books at any one time. "We are still seeing a pattern of people who, if the presumption of innocence means anything, ought to be let go or acquitted and they are not," says Jakobi, who blames Continental judges. "They seem to think that a lorry driver has some magic way of knowing what's in his load—X-ray eyes or something. There have been too many incidences ollorry drivers being convicted of smuggling goods where no evidence exists against them and the goods were inside sealed packages in the lorries," he continues.
It's usually owner-operators who are most at risk, says Jakobi. He warns that they should be very careful about accepting return loads from companies in Spain, Turkey or Morocco which they do not know thoroughly. Another danger area is Switzerland, which he says is a favourite route for smugglers who want to bring gold bullion or cigarettes into the EU.
"With Spain you are talking cannabis in fairly large quantities made up to look like ordinary pallets and put in as part of your load which you can't inspect," says Jakobi. "The best thing to do is deal only with well-known companies doing well-known things from regular depots or from places where you know the company has a proper reputation."
If a British driver is arrested on the Continent Jakobi says the first thing to do, after getting hold of the British Consul, is to contact his organisation, which keeps lists of reliable lawyers throughout Europe. He also stresses that the driver should get in touch with British Customs and Excise and also the police, if possible, so the matter can be sorted out quickly at the UK end.
"Innocent or not you can sit in prison for a very long time in places such as France and Spain while they check you out," says Jakobi. While he has a generally low opinion of the justice systems throughout Europe, Jakobi puts Belgium at the top of his blacklist: "If you get mixed up in the Belgian justice system it is extraordinarily bad news. There are no rules of evidence...therefore judges can convict just because they feel a defendant is guilty. And that can open the door to such things as racial prejudice, stereotyping and xenophobia."
Vulnerable
Those working on groupagc in Europe are particularly vulnerable, says Jakobi; "They are really parcels carriers and it's no " good treating them any differ/*:-. ently. We have had a lot of problems with drivers on groupage jobs being kept in for many months in France. I find it a total scandal that the transport industry as a whole isn't up in arms about this.
"People manage to get things onto trucks and the driver is always blamed," he concludes. "It would be different if the haulage company was always blamed; I wish that would happen. Then we would get the industry up in arms very quickly. The victims are the people driving the lorries. Nobody else."