New Helecs 10-cwt. Battery-electric
21st October 1949
Page 53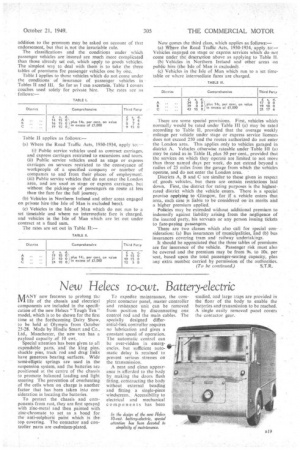 Page 53, 21st October 1949 —
New Helecs 10-cwt. Battery-electric
Close
.MANY new features to prolong the life of the chassis and electrical components are included in the specification of the new Helecs "Tough Ten" model, which is to be shown for the first time at the forthcom_ing Dairy Show, to be held at Olympia from October 25-28. Made by Hindle Smart and Co.. Ltd., Manchester, the new van has a payload capacity of 10 cwt.
Special attention has been given to all expendable parts, 'andthe king pins, shackle pins, track rod and drag links have generous bearing surfaces. Wide semi-elliptic springs are used in the suspension system, and the batteries are. positioned at the centre. of the chassis to promote balanced loading and light steering The prevention of overheating of the cells when on charge is another factor that has been taken into consideration irt locating the batteries.
To protect the chassis and components from rust, they are first sprayed with zinc-metal and then painted with zinc-chromate . to act as .a bond for the anti-sulphuric paint which is the top covering. The contactor and controller parts are cadmium-plated.
To expedite maintenance, the complete. contactor panel, master controller and resistance unit can be removed from position by disconnecting one control rod and the main cables. The specially designed differential-link controller requires no lubrication and gives a constant speed of operation. The automatic control can be over-ridden in emergencies, but sufficient autoW matic delay is retained' to prevent serious stresses on the transmission.
A neat and clean appearance is afforded to the body by making the doors flush fitting, constructing the body without 'external beading and fitting a single-piece windscreen. Accessibility to electrical and mechanical components has been studied, and large traps are provided in the floor of the body to enable the batteries and transmission to be reached. A single easily removed panel covers the contactor gear.