OPINIONS FROM OTHERS.
21st October 1924
Page 22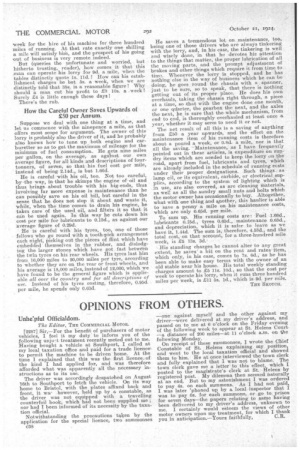 Page 22, 21st October 1924 —
OPINIONS FROM OTHERS.
Close
Unhe!pful Officialdom.
The Editor, THE COMMERCIAL MOTOR.
[2287] Sir,—For the benefit of purchasers of motor vehicles, I feel it my duty' to inform you of the following unju-t treatment recently meted out to me. Having bought a vehicle at Southport, I called at my local taxation office and paid for a trade licence' to permit the machine to be driven home. At the time I explained that this was the first licence, of the kind I had applied for, and was therefore afforded what was apparently all the necessary instructions as to its use.
The driver was accordingly despatohed on August 16th to Southport to fetch the vehicle. On its way home to Bristol, with the plates affixed back and front, it wahowever, held up by a constable,as the driver was not equipped with a travelling counterfoil book, which had not been supplied me ; nor had I been informed of its necessity by the taxation official.
Notwithstanding the precautions taken by the application for the special licence, two summonses —one against myself and the other against my driver—were delivered at my driver's address, and passed on to me at 6 o'clock on the Friday evening of the following week to appear at St. Helens Court —a distance of 200 miles—at 11 o'clock a.m. on the following Monday. On receipt of these summonses, I wrote the Chief Constable of St. Helens explaining my position, and went to the local taxation official and showed them to him. He at once interviewed the town clerk and fully explained that I was not to blame. The town clerk gave me a letter to this effect, which I posted to the magistrate's clerk at St. Helens by registered post. My dilemma then seemed naturally at 'an end. But to my astonishment I was ordered to pay 4s. on each summons. As I had not paid, I was later 'phoned up by a. local inspector that I was to pay 6s. for each summons, or go to prison for seven days—the papers relating to same having been delivered to my driver's address, unknown to me. I certainly would esteem the views of other motor owners upon my treatment, for which I thank
you in anticipation.—Yours faithfully, C. R.