Farr air
21st May 1971
Page 38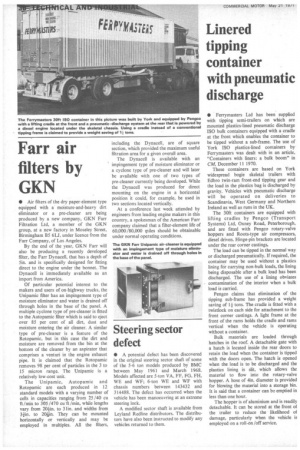 Page 38, 21st May 1971 —
Farr air
Close
filters by
GKN
• Air filters of the dry paper-element type equipped with a moisture-and-heavy dirt eliminator or a pre-cleaner are being produced by a new company, GKN Farr Filtration Ltd, a member of the GKN group, at a new factory in Moseley Street, Birmingham B5 6LJ, under licence from the Farr Company, of Los Angeles.
By the end of the year, GKN Farr will also be producing a recently developed filter, the Farr Dynacell, that has a depth of 5in, and is specifically designed for fitting direct to the engine under the bonnet. The Dynacell is immediately available as an import from America.
Of particular potential interest to the makers and users of on-highway trucks, the Unipamic filter has an impingement type of moisture eliminator and water is drained off through holes in the base of the panel. A multiple cyclone type of pre-cleaner is fitted to the Autopamic filter which is said to eject over 85 per cent of all dirt, dust and moisture entering the air cleaner. A similar type of pre-cleaner is a feature of the Rotopamic, but in this case the dirt and moisture are removed from the bin at the bottom of the cleaner by an aspirator that comprises a venturi in the engine exhaust pipe. It is claimed that the Rotopamic removes 98 per cent of particles in the 3 to 15 micron range. The Unipamic is a relatively low-cost unit.
The Unipamic, Autopamic and Rotopamic are each produced in 12 standard models with a varying number of cells in capacities ranging from 25 /40 cu ft /min. to 305/470 cult /min, while lengths vary from 20-i-in. to 31in. and widths from 3fin. to 20ain. They can be mounted horizontally or vertically and may be employed in multiples. All the filters, including the Dynacell, are of square section, which provided the maximum useful filtration area for a given overall area.
The Dynacell is available with an impingement type of moisture eliminator or a cyclone type of pre-cleaner and will later be available with one of two types of pre-cleaner currently being developed. While the Dynacell was produced for direct mounting on the engine in a horizontal position it could, for example, be used in two sections located vertically.
At a conference last week attended by engineers from leading engine makers in this country, a spokesman of the American Farr company claimed that a filter-element life of 60,000/80,000 miles should be obtainable under normal operating conditions.