ONE HEARS
21st March 1922
Page 3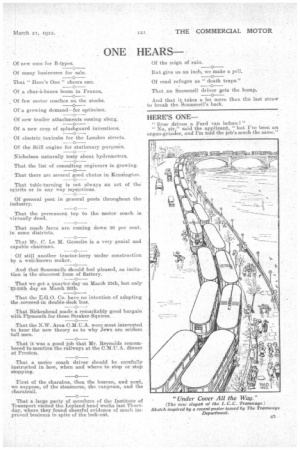 Page 3, 21st March 1922 —
ONE HEARS
Close
Of new uses for B-types.
Of many businesses for sale.
That " Here's One" cheers one.
Of a char-à-bancsi boom in France, Of few motor wadies on the stocks.
Of a growing demand—for optimism. Of new trailer attachments coming along. Of a new crop of splashguard inventions. Of electric .taxicabs for the London streets. Of the Still engine for stationary purposes.
Nicholson naturally testy about hydrometers.
That the list of consulting engineers is growing.
That there are several good chutes in Kensington.
That table-turning is not always an act of the spirits or in any way mysterious.
Of general post in general posts throughout. the industry.
That the permanent top to the virtually dead. motor coach is That coach fares 'aro coming down 20 per cent. in some districts.
That Mr. C. Le M. Gasselin is a very genial and capable chairman.
• Of still another tractor-lorry under construction by a well-known maker.
And that Scanamells should feel pleased, as imitation is tho sincerest form of flattery.
That we get a quarter-day on March 25th, but only 23-24th day on March 26th.
That the L.G.O. Co. have no intention of adopting the .covered-in double-deck bus.
That Birkenhead made a remarkably good bargain with Plymouth for those Straker-Squires.
That the N.W. Area C.M.U.A. were most interested to hear the new theory as to why Jews are -seldom tali men.
That it was a good job that Mr. Reynolds remembered to mention the railways at the C.M.T.T. A. dinner at Preston.
That a motor coach driver should be . carefully instructed in how, when and where to stop or stop stepping.
First of the Chara.bus, then the busvan, and next, we suppose, of the steamorse, the vanpram, and the charatrail.
That a large party of members of the institute of Transport visited the Leyland head works last Thursday, where they found cheerful evidence of much improved business in spite of the lock-out. Of the reign of rain.
But give us an inch, we make a yell.
Of road refuges as " death traps."
That _no Scammell driver gets the hump.
And that it takes a lot more than the last straw to break tho Scammell's back.