A PLATE-GLASS PUBLICITY VEHICLE.
21st March 1922
Page 20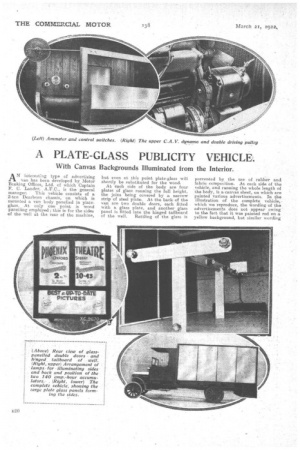 Page 21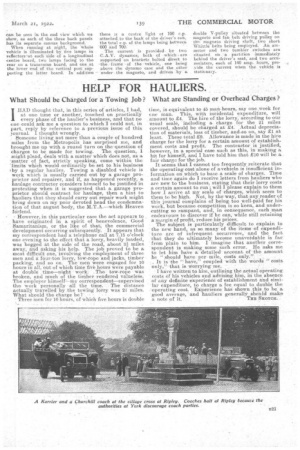 Page 20, 21st March 1922 —
A PLATE-GLASS PUBLICITY VEHICLE.
Close
With Canvas Backgrounds Illuminated from the Interior.
ANinteresting type of advertising Vail has been developed by Motor Booking Offices, Ltd. of which Captain F. C. Lander, A.F.C., is the general manager. This vehicle consists of a 2-ton Dearborn chassis, on which is mounted a van body panelled in plateglass. At only one point is wood panelling employed; this is for the sides of the well at the rear of the machine,
but even at this point plate-glass will shortly be substituted for the wood.
At, each side of the body are four plates of glass running the full height. the joins being covered by a narrow strip of steel plate. At the back of the van are two double doors, each fitted with a glass plate, and another glass panel is fitted into the hinged tailboard of the well. Rattling of the glass is
prevented by the use of rubber and fabric composition. At each side of the vehicle, and running the whole length of the body, is a canvas sheet, on which are painted various advertisements. In the illustration of tho complete vehicle,. which we reproduce, the wording of the advertisements does not appear owing to the fact that it was painted red on a yellow background, but. similar wording can be seen in the end view which we show, as each of the three back panels his its separate canvas background.
When running at night, the Wh6le vehicle is illuminated by iive lamps in reflectors,at each side of a longitudinal centre board, . two lamps facing to the rear on a transverse board, and one,.at the lower end of the vertical post supporting the latter board. In addition there is a centre light ot 100 c.p. attached to the buck of the driver's cab, the total c.p. cif the lamps being between .600 and 700: The current is provided by two C.A.V. dynamos, both of which are supported on brackets bolted direct to -the • franie -of _the 'v'ehicle,. one being .above the dynamo case and the other under. the magneto, and driven by a double 17-pulley situated between the magneto and fan belt driving pulley on tim magneto driving shaft., two short Whittle belts being emPloyed. An ammeter and two tumbler switches are situated on .. a partition immediately behind the driver's seat, and two accumulators, each of 140 amp. hours, provide the current when the vehicle is stationary.