IMPROVING THE TANK WAGON,
21st March 1922
Page 15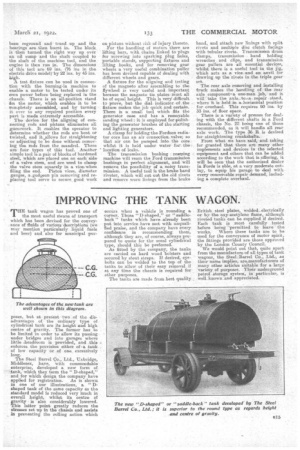 Page 15, 21st March 1922 —
IMPROVING THE TANK WAGON,
Close
rr HE tank wagon has proved one of the most useful Means of transport which has been devised for the conveyance of -fluids of various descriptioni (we may mention particularly liquid fuels and beer) arid also for municipal .pm- poses, but at preent two of the disadvantages of the ordinary type of cylindrical tank are its height and high centre of gravity. The former has to be limited in order to allow its passing • under bridges and into garages where little .headroom is provided, and this ; enforces the provision either of• a tank of low capacity or of one excessively long.
The Steel Barrel cc., Ltd., Uxbridge, Middlesex, have, with commendable enterprise, developed a new form of i.ank, which they term the 'D-shaped," and for which design the company have applied for registration. As is shown
in one of our illustrations, a " shaped tank tank of the same capacity as the standard model is reduced very ranch in overall height, whilst its centre of gravity is also considerably lowered. 'This latter point greatly.. reduces the stresses set up in the chassis and assists in preventing the rolling action which
occurs when a vehicle is rounding a corner. Those "B-shaped," or "saddleback ' tanks which have. already been put into service have met with unqualified praise, and the company have every confidence in recommending them, although they arc, of course, always prepared to quote for the usual cylindrical type, should this be preferred. As fitted by the company, the tanks are carried, on hard wood bolsters and secured by stout straps. If desired, eyebolts can be welded to the top of the tanks to allow of their easy removal if at any time the chassis is required for other purposes. The tanks are made from.best quality British steel plates, welcled..electrically, or by the oxy-acetylene flame, although riveted tanks can be supplied if desired. Each tank is most carefully tested before being 'permitted to leave the works. Where these tanks are to be used for the conveyance of motor spirit, the fittings provided are those approved by the London County Council. We would. paint out that., quite apart from the manufacture of all types of tank wagons, the Steel-Barrel Co., LW,, as their name implies; amanufacturers of many ether articles suitable for a large 'variety of purposes. Their underground petrol storage system, in particular, is well, known and appreciated.