COMING-OF-AGE OF A MIDLAND BUS ENTERPRISE.
21st March 1922
Page 10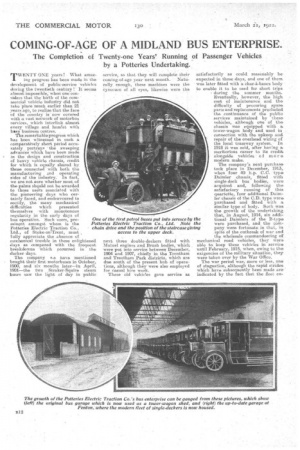 Page 10, 21st March 1922 —
COMING-OF-AGE OF A MIDLAND BUS ENTERPRISE.
Close
The Completion of Twenty-one Years' Running of Passenger Vehicles by a Potteries Undertaking.
TWENTY ONE years ! What amazing progress has been made in the development of public-service •vehicles dining the twentieth centiiry I It seema almost impossible; when one considers-that the birth of the commereial vehicle industry did not take Place -much earlier than 21 years ago, to realize that the face of the country is now covered with a vast network of motorbus services, which interlink. almost every village and hamlet with busy business centres. The remarkable progress which has been witnessed in such a comparatively short period accurately portrays the sweeping advances which have been made in the design and construction of heavy vehicle chassis, credit for which is equally shared by those connected with both the manufacturing and operating sides of the industry: In fact, we are not sure whether most of the palms slig,uki not be awarded to those users associated with tho pioneering days who certainly faced, and endeavoured to rectify, the many mechanical difficulties which presented themselves with monotonous regularity in the early days of bus operation. Such users, prominent amongst whom is the Potteries Electric Traction Co., Ltd., of Stoke-oefrent, must , fully appreciate the absence of mecrlanical trouble in these enlightened days as compared with the frequent breakdowns which occurred in the darker days.
The company n e have mentioned bought their first motorbuses in October, 1900, and six months later—in April, 1901—the two Straker-Squire steam buses saw the light of day in public service, so that they will complete their coming-of-age year next month. Naturally enough, these machines were the cynociure of all eyes, likewise were the next three double-deckers fitted with Afutuel engines and Brush bodies, which were put into service between December, 1904 and 1907, chiefly in the Trentham and Trentham Park districts, which are due south of the present hub of operations, although they were also employed for casual hire work.
These old vehic!es gave service as
satisfactorily as could reasonably be expected in those days, and one of theirs was later fitted with a char-a-banes body to enable it to be used for short trips during the summer months. Eventually, however, the high cost of maintenance and the difficulty of procuring spare parts and replacements precluded. the continuance of the public services maintained by these vehicles, although one of the chassis was equipped with a tower-wagon body and used in connection with the upkeep and. repair of the overhead wiring of the local tramway system. In 1918 it was sold, after having a meritorious career to it/a credit. alongside vehicles of mo re. modern make.
The company's next purchase took place in December, 1913, when four 40 hp. C.C. type Daimler chassis, fitted with single-deck bus bodies, were acquired and, following the satisfactory running of this quartette, four additional Daimler chassis of the C.D. type were purchased and fitted with a similar type of body. Such was. the growth of the undertaking that, in August, 1914, six additional. Daimlers of the B-type were purchased, and the company were fortunate in that, in spite of the outbreak of war and the wholesale commandeering of mechanical road vehicles, they were able to keep these vehicles in service until February, 1915, when, owing to the exigencies of the military situation, they were taken over by the War Office. The war period was, more or less, one of stagnation, although the rapid strides: which have subsequently been made are indicated by the fact that the flek en