Sally's new sailing
21st July 1984
Page 8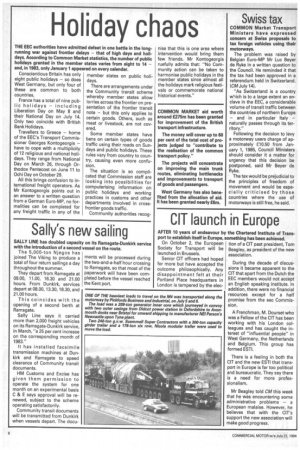 Page 8, 21st July 1984 —
Sally's new sailing
Close
SALLY LINE has doubled capacity on its Ramsgate-Dunkirk service with the introduction of a second vessel on the route.
The 5,000-ton Njegos has joined The Viking to produce a total of four return sailings a day throughout the summer.
They depart from Ramsgate at 09.00, 11.00, 16.30 and 21.00 hours. From Dunkirk, services depart at 08.00, 13.30, 18.30, and 21.00 hours.
This coincides with the opening of a second berth at Ramsgate.
Sally Line says it carried more than 2,000 freight vehicles on its Ramsgate-Dunkirk service, in March, "a 25 per cent increase on the corresponding month of 1983."
It has installed facsimile transmission machines at Dunkirk and Ramsgate to speed clearance of Community transit documents.
HM Customs and Excise has given them permission to operate the system for one month on an experimental basis C & E says approval will be renewed, subject to the scheme operating satisfactorily.
Community transit documents will be transmitted from Dunkirk when vessels depart. The docu ments will be processed during the two-and-a-half hour crossing to Ramsgate, so that most of the paperwork will have been completed before the vessel reached the Kent port.