CIT launch in Europe
21st July 1984
Page 8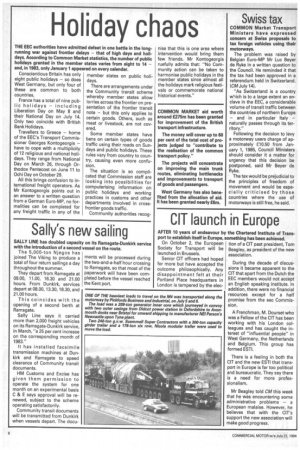 Page 8, 21st July 1984 —
CIT launch in Europe
Close
AFTER 10 years of endeavour by the Chartered Institute of Transport to establish itself in Europe, something has been achieved.
On October 2, the European Society for Transport will be launched in Brussels.
Senior CIT officers had hoped for more but have accepted the outcome philosophically. Any disappointment felt at their Portland Place headquarters in London is tempered by the elec tion of a CIT past president, Tom Beagley, as president of the new association.
During the decade of discussions it became apparent to the CIT that apart from the Dutch the EEC members would not accept an English speaking institute. In addition, there were no financial resources except for a half promise from the eec Commission.
A Frenchman, M. Dourset who was a Fellow of the CIT has been working with his London colleagues and has caught the interest of "influential people" in West Germany, the Netherlands and Belgium. This group has formed ESTI.
There is a feeling in both the CIT and the new ESTI that transport in Europe is far too political and bureaucratic. They say there is a need for more professionalism.
Mr Beagley told CM this week that he was encountering some administrative problems — a European malaise. However, he believes that with the CIT's support the new association will make good progress.