The best little truck stop in town
21st July 1984
Page 46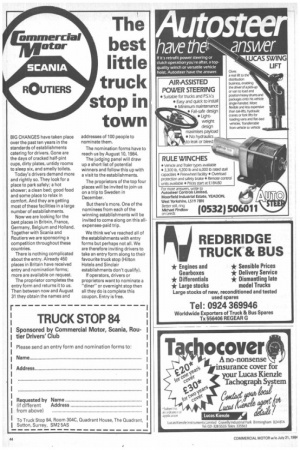 Page 46, 21st July 1984 —
The best little truck stop in town
Close
BIG CHANGES have taken place over the past ten years in the standards of establishments catering for drivers. Gone are the days of cracked half-pint cups, dirty plates, untidy rooms to sleep six, and smelly toilets.
Today's drivers demand more and rightly so. They look for a place to park safely; a hot shower; a clean bed; good food and some place to relax in comfort. And they are getting most of these facilities in a large number of establishments.
Now we are looking for the best places in Britain, France, Germany, Belgium and Holland. Together with Scania and Routiers we are sponsoring a competition throughout these countries.
There is nothing complicated about the entry. Already 450 places in Britain have received entry and nomination forms; more are available on request.
The proprietor completes the entry form and returns it to us. Then between now and August 31 they obtain the names and addresses of 100 people to nominate them.
The nomination forms have to reach us by August 10, 1984.
The judging panel will draw up a short list of potential winners and follow this up with a visit to the establishments.
The proprietors of the top four places will be invited to join us on a trip to Sweden in December.
But there's more. One of the nominees from each of the winning establishments will be invited to come along on this allexpenses-paid trip.
We think we've reached all of the establishments with entry forms but perhaps not all. We are therefore inviting drivers to take an entry form along to their favourite truck stop (Hilton Hotels and Sinclair establishments don't qualify).
If operators, drivers or proprietors want to nominate a "diner" or overnight stop then all they do is complete this coupon. Entry is free.