Inadequate road signs
21st July 1984
Page 22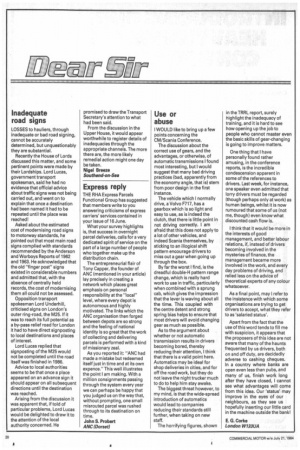 Page 22, 21st July 1984 —
Inadequate road signs
Close
LOSSES to hauliers, through inadequate or bad road signing, cannot be accurately determined, but unquestionably they are substantial.
Recently the House of Lords discussed this matter, and some pertinent points were made by their Lordships. Lord Lucas, government transport spokesman, said he had no evidence that official advice about traffic signs was not being carried out, and went on to explain that once a destination had been named it had to be repeated until the place was reached!
Asked about the estimated cost of modernising road signs to motorway standards, he pointed out that most main road signs complied with standards recommended by the Anderson and Worboys Reports of 1962 and 1963. He acknowledged that the old "finger post" signs existed in considerable numbers and admitted that, with the absence of centrally held records, the cost of modernising them all could not be assessed.
Opposition transport spokesman Lord Underhill, criticised signs on London's outer ring-road, the M25. If it was to reach its full potential as a by-pass relief road for London it had to have direct signposting to local destinations and places of interest.
Lord Lucas replied that signposting of the M25 would not be completed until the road itself was finished in 1986.
Advice to local authorities seems to be that once a place appeared on an advance sign it should appear on all subsequent directions until the destination was reached.
Arising from the discussion it was apparent that, if told of particular problems, Lord Lucas would be delighted to draw it to the attention of the local authority concerned. He promised to draw the Transport Secretary's attention to what had been said.
From the discussion in the Upper House, it would appear worthwhile to register details of inadequacies through the appropriate channels. The more there are, the more likely remedial action might one day be taken.
Nigel Breeze Southend-on-Sea