Dynamic coaches
21st July 1984
Page 21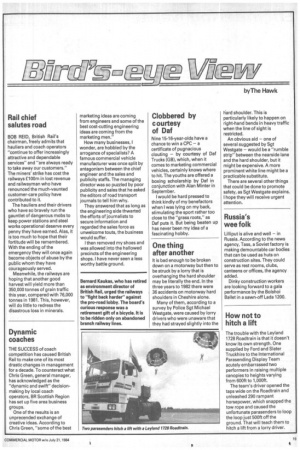 Page 21, 21st July 1984 —
Dynamic coaches
Close
THE SUCCESS of coach competition has caused British Rail to make one of its most drastic changes in management for a decade. To counteract what Chris Green, general manager, has acknowledged as the "dynamic and swift" decisionmaking by local coach operators, BR Scottish Region has set up five area business groups.
One of the results is an unprecended exchange of creative ideas. According to Chris Green, "some of the best marketing ideas are coming from engineers and some of the best cost-cutting engineering ideas are coming from the marketing men."
How many businesses, I wonder, are hobbled by the arrogance of specialists? A famous commercial vehicle manufacturer was once split by antagonism between the chief engineer and the sales and publicity staffs. The managing director was so puzzled by poor publicity and sales that he asked the editors of road transport journals to tell him why.
They answered that as long as the engineering side thwarted the efforts of journalists to secure information and regarded the sales force as unwelcome touts, the business would suffer.
I then removed my shoes and was allowed into the hallowed precincts of the engineering shops. I have never seen a less worthy battle ground.