MANY A MICKLE!
21st July 1925
Page 24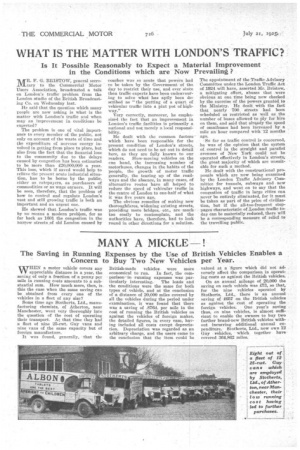 Page 24, 21st July 1925 —
MANY A MICKLE!
Close
The Saving in Running Expenses by the Use of British Vehicles Enables a Concern to Buy Two New Vehicles per Year.
WHEN a motor vehicle covers any appreciable distance in a year, the saving of only a fraction of a penny per mile in running costs amounts to a substantial sum. How much more, then, is this the case when the same saving can be obtained from every one of the vehicles in a fleet of any size?
Some time ago Stotherts, Ltd., manufacturing chemists, of Atherton, near Manchester, went very thoroughly into the question of the cost of operating their transport. At that time they had .a fleet of nine 25-cwt. Guy vans and nine vans of the same capacity but of foreign manufacture.
It was found, generally, that the British-made vehicles were more economical to run. In fact, the comparisonin running expenses was par
ticularly interesting. The loads and the conditions were the same for both types of vehicle, and at the conclusion of a distance of 20,000 miles covered by all the vehicles during the period under examination, it was found that there was a saving of .876d. per mile in the cost of running the British vehicles as against the vehicles of foreign makes, the detailed figures, in every case, having included all costs except depreciation. Depreciation was regarded as an arbitrary charge, and the users came to the conclusion that the item could be
valued at a figure which did not adversely affect the comparison in operating costs as against the British vehicles.
On an annual mileage of 20,000 the saving on each vehicle was £73, so that, for the nine vehicles operated by Stotherts, Ltd., there is an annual saving of £657 on the British vehicles as against the cost of operating the foreign vehicles. One year's saving thus, on nine vehicles, is almost sufficient to enable the owners to buy two further brand-new British vehicles without incurring additional annual expenditure. Stotherts, Ltd., now own 12 Guy vehicles, which together have covered 364,862 miles.