THE SPHERE OF THE COMMERCIAL SIDECAR.
21st July 1925
Page 21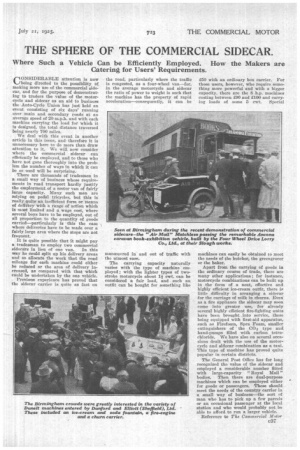 Page 22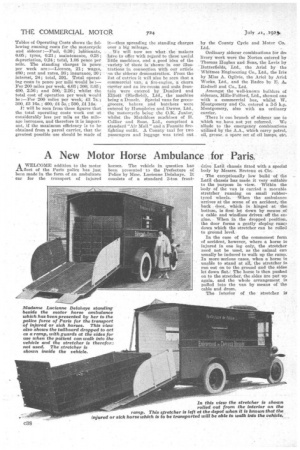 Page 21, 21st July 1925 —
THE SPHERE OF THE COMMERCIAL SIDECAR.
Close
Where Such a Vehicle Can be Efficiently Employed. How the Makers are Catering for Users' Requirements.
• riONSIDERABLE attention is now V being directed to the possibility of making more use of the commercial sidecar, and for the purpose of demonstrating to traders the value of the motorcycle and sidecar as an aid to business the Auto-Cycle Union has just held an event consisting of six days' running over main and secondary roads at an average speed of 20 m.p.h, and with each machine carrying the load for which it is designed, the total distance traversed being nearly 700 miles.
• We deal with this event in another article in this issue, and therefore it is unnecessary here to do more than draw attention to it. We will now consider where the commercial sidecar can efficiently be employed, and to those who have not gone thoroughly into the problem the number of ways in which it can be so used will be surprising.
There are thousands of tradesmen in a small way of business whose requirements in road transport hardly justify the employment of a motor van of fairly large capacity. Many such men are relying on pedal tricycles, but this is really quite an inefficient form or means of delivery with a range of action which is most limited and a wage cost, where several boys have to be employed, out of all proportion to the quantity of goods carried—particularly is this the case where deliveries have to be made over a fairly large area where the stops are not frequent.
It is quite possible that it might pay a tradesman to employ two commercial sidecars in lieu of one van. In this way he could split up his delivery areas and so allocate the work that the road mileage for each machine could either be reduced or the area of delivery increased, as compared with that which could be undertaken by the one vehicle.
Previous experience has proved that the sidecar carrier is quite as fast on the road, particularly where the traffic is congested, as a four-wheel van—for, in the average motorcycle and sidecar the ratio of power to weight is such that the machine has the property of rapid acceleration—consequently, it can be manmuvred in and out of traffic with the utmost ease.
The carrying capacity naturally varies with the type of machine employed; with the lighter types of twostroke motorcycle about 1i cwt. can be considered a fair load, and such an outfit can be bought for something like
£50 with an ordinary box carrier. For those users, however, who require something more powerful and with a bigger capacity, there are the 8 h.p. mac:blues costing between £90 and £100 and carry ing loads of some 5 cwt. special machines can easily be obtained to meet the needs of the butcher, the greengrocer or the baker.
Apart from the carrying of goods in the ordinary course of trade, there are many other applications; for instance, motorcycle combinations can be built up in the form of a neat, effective and highly efficient ice-cream outfit, there is ii111P difficulty in arranging a sidecar for the carriage of milk in churns. Even as a fire appliance the sidecar may soon come into greater use, for already several highly efficient fire-fighting units have been brought into service, these being equipped with first-aid apparatus, such as Firefoam, Sprit Foam, smaller extinguishers of the CO/ type and hand-pumps filled with carbon tetrachloride. We have also on several occasions dealt with the use of the motorcycle and sidecar combination as a taxi. This type of machine has proved quite popular in certain districts.
The General Post Office has for long recognized the value of the sidecar and employed a considerable "lumber fitted with large-capacity "Royal Mail" bodies. Then there are dual-purpose machines which can be employed either for goods or passengers. These should meet the needs of the country carrier in a small way of business—the sort of man who has to pick up a few parcels or an occasional passenger at the local station and who would probably not be able to afford to run a larger vehicle.
Reference to The Commercial Motor
Tables of Operating Costs shows the following running costs for the motorcycle and sidecar :—Fuel, 0.30; luhricants, 0.05; tyres, 0.21 ; maintenanee, 02S; depreciation, 0.24; total, 1.08 pence per mile. The standing charges in pence per week are :—Licence, 21; wages, 480; rent and rates, 36; insurance, 30.; interest, 24; total, 591. Total operating costs in pence per Mild would be :— For 200 miles per week, 4.03; 300, 3.05; 400, 2.56; and 600,. 2.26; whilst the total cost of operation per week would be :—Por 200 mites per week; £3 is.; 300, £3 16s. ; 400,. £4 5s.; 500, £4 14s.
It will be seen from these figures that the total operating costs work out at considerably less per mile as the mileage increases, and therefore it is important, if the maXimum efficiency is to be obtained from a parcel carrier, that the greatest possible use should be made of it—thus spreading the standing charges over a big mileage.
We will now see what the makers have, to offer tvith regard' to these useful little machines, and a,good idea of the variety of thee is, shown' in our illustrations in connection with our article on the sidecar demonstration'. Prom the list of entries it will 'also be seen that a commercial Van, a fire-engine, a churn carrier and an ice-cream' and soda fowltaiU Were entered by Dunford and Elliott (Sheffield), Ltd.," the machine being a Dunelt. Special vans for greengrocers,' bakers and butchers were entered by Humphries and Dawes, Ltd., the motorcycle being the O.K. Junior., whilst the Matchless Machines of IL Collier and Sons, Ltd., comprised a standard "Air Mail" and a Foamite firefighting outfit. A Comity taxi for two passengers and luggage was tried out
by the County Cycle and Motor Co. Ltd.
Ordinary sidecar combinations for de• livery work were the Norton entered by Thomas Hughes and Sons, the Levis by Butterfiel&, Ltd., the Arid l by the Whitmee Engineering Co., Ltd., the Iris by Miss A. Ogilvie, the Ariel by Aridl Works, Ltd., and the Rade° by E. A. Radnell and Co., Ltd.
Amongst the well-known builders of sidecars, Mills-Eulford, Ltd., showed one with a commercial box, whilst W. Montgomery and Co. entered a 3-5 h.p. Montgomery, also with an ordinary carrier.
There is one 'branch of sidecar use to .which we, have not yet referred. We allude to ihe emergency combinations utilized by the A.A., which carry petrol, oil, grease,. a spare set of oil lamps, etc.