180 Passengers in Rear-engined "Artie"
21st January 1955
Page 45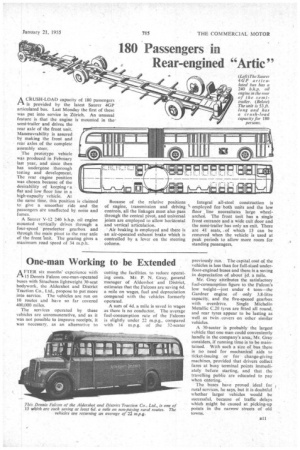 Page 45, 21st January 1955 —
180 Passengers in Rear-engined "Artie"
Close
The prototype vehicle was produced in February last year, and since then has undergone thorough testing and development. The rear engine position was chosen because of the desirability of keeping a fiat and low floor line in a high-capacity vehicle. At the same time, this position is claimed to give a smoother ride and the passengers are unaffected by noise and fumes.
A Saurer V-12 240 b.h.p. oil engine mounted vertically drives through a four-speed preselector gearbox and through the main pivot to the rear axle of the front Unit. The gearing gives a maximum road speed of 34 m.p.h. Because of the relative positions of engine, transmission and driving controls, all the linkages must also pass through the central pivot, and universal joints are employed to allow horizontal and vertical articulation.
Air braking is employed and there is an air-operated exhaust brake which is controlled by a lever on the steering column.
Integral all-steel construction is k employed for both units and the low floor line necessitates large wheelarches. The front unit has a single front entrance and a wide exit door and the semi-trailer has only an exit. There are 41 seats, .-of which 13 can be removed when the vehicle is used at peak periods to allow more room for standing passengers.