" R.H.A. and B.T.C. Should Co-operate
21st January 1955
Page 33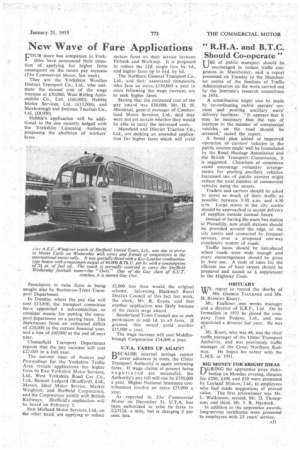 Page 33, 21st January 1955 —
" R.H.A. and B.T.C. Should Co-operate
Close
USE of public transport should be encouraged to reduce traffic congestion in Manchester, said a report presented on Tuesday to the Manchester centre of the Institute of Traffic Administration on the work carried out by the Institute's research committees in 1954.
A contribution might also be made by co-ordinating public carriers' services and pooling ancillary users' delivery facilities. "It appears that it may be necessary that the rate of increase in the number of commercial vehicles on the road should be arrested," stated the report.
A broad plan aimed at improved operation of carriers' vehicles in the public interest might well be formulated by the Road Haulage Association and the British Transport Commission, it is suggested. Chambers of commerce could encourage voluntary arrangements for pooling ancillary vehicles. Increased use of public carriers might reduce the total number of commercial vehicles using the streets.
Traders and carriers should be asked to move as much of theirtraffic as possible between 9.30 a.m. and 4.30 p.m', Large stores in the city centre should be approached to accept delivery of supplies outside normal hours.
Instead of having the main bus station at Piccadilly, new small stations should be provided around the edge of the city centre and connected by frequent services over a proposed one-way circulatory system of roads.
Traffic lanes should be introduced where roads were wide enough and every encouragement should be given to their use. A code of rules for the efficient use of busy streets should be prepared and issued as a supplement to the Highway Code.
OBITUARY
WE regret to record the deaths of MR. GEORGE FALTLKNER and MR. H. STANLEY KNOTT.
Mr. Faulkner was works manager and a director of E.R.F., Ltd. On its formation in 1933 he joined the company from Fodens, Ltd., and was appointed a director last year. He was 67.
Mr. Knott, who was 46, was the chief traffic manager of the Ulster Transport Authority, and was previously traffic manager of the Great Northern Rail way. He began his career with the L.M.S. in 1931.
BIG MONEY FOR BRIGHT IDEAS
DURING the apprentice prize distribution on Monday evening, cheques for £200, £100 and £50 were presented by Leyland Motors, Ltd., to employees who had made suggestions of proved value. The first prizewinner was Mr. L. Watkinson; second, Mr. D. Thompson; . and third, Mr. J. R. Haydock.
In addition to the apprentice awards, long-service certificates were presented to employees with 25 years' service.