ONE HEARS
21st February 1918
Page 3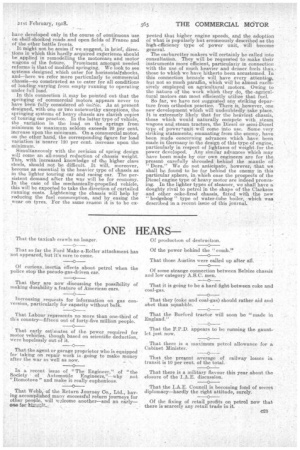 Page 3, 21st February 1918 —
ONE HEARS
Close
That the taxicab crawls no longer.
That so far the Ford Make-a-Roller attachment has not appeared, but it's sure to come.
Of curious, inertia, effects about petrol when the police stop the pseudo-gas-driven car.
That they are now -discussing the possibility of making durability a feature of American ears. .
Increasing requests for information on gas conversion, particularly for capacity without bulk.
That Labour represents no more than one-third of this country—fifteen out of forty-five million people.
That early estimates of the power required for motor vehicles, though based on scientific deduction, were hopelessly out of it.
That the agent or garage proprietor who is equipped for taking on repair work is going to make money after the war as well as now.
In a recent issue of "The Engineer," of "the Society of Automotile Engineers,"—why not "Itomotove " and make it really euphonious.
That Webb -of the Return Journey Co.., Ltd., having.accomplished inanv successful return journeys for other people, will welcome another—and an early— one for bi22:2.4,11f..
Of production of destruction.
Of the Power behind the " That those Atistins were called up after all.
Of some strange connection between Belsize chassis and low category A.S.C. men.
That it is going to be a hard fight between coke and coal-gas.
That they (coke and coal-gas) should rather aid and abet than squabble.
That the Burford tractor will soon be "made in England."
That the F.P.D. appears to be running the gaunt, let just now.
That there is a maximum petrol allowanee for a Cabinet Minister.
That the present average of railway losses in transit is 10 per cent. of the total.
That there is a military flavour this year about the closure of the I.A.E. discussion.
That the I.A.E. Council is becoming fond of secret diplomacy—hardly the right attitude, surely.