Road Transport Topics
21st December 1934
Page 49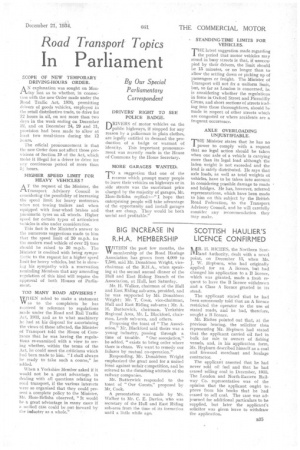 Page 49, 21st December 1934 —
Road Transport Topics
Close
In Parliament
By Our Special Parliamentary Correspondent
SCOPE OF NEW TEMPORARY DRIVING-HOURS ORDER.
AN explanation was sought on Monday last as to whether, in connection with the new Order made under the Road Traffic Act, 1930, permitting drivers of goods vehicles, employed in the retail distributive trade, to drive for 12 hours in all, on not more than two days in the week ending on December 22, and on December 24, 29 and 31, provision had been made to allow at least two meal-times during the 12 hours.
The official pronouncement is that the new Order does not affect those provisions of Section 19 of the Act, which make it illegal for a driver to drive for any continuous period of more than 5', hours.
HIGHER SPEED LIMIT FOR HEAVY VEHICLES?
AT the request of the Minister, the Transport Advisory Council is considering the possibility of increasing the speed limit for heavy motorcars when not towing trailers and when equipped with four-wheel brakes and pneumatic tyres on all wheels. Higher speed for certain types of articulated vehicles is also under consideration.
This fact is the Minister's answer to the numerous suggestions made to him that the speed limit of 20 m.p.h. Ica the modern road vehicle of over 21 tons should be raised to 30 m.p.h. The Minister is credited with being sympathetic to the request for a higher speed limit for heavy vehicles, but he is showjag his sympathy with a reservation reminding Members that any amending regulation of this kind will require the approval of both Houses of Parliament.
TOO MANY ROAD ADVISERS?
'WHEN asked to make a statement W as to the complaints he has received in reference to regulations made under the Road and Rail Traffic Act, 1983, and as to what machinery he had at his disposal for ascertaining the views of those affected, the Minister of Transport told the House of Commons that he was having the regulations re-examined with a view to seeing whether, within the terms of the Act, he could meet the criticisms which had been made to him. f' I shall always be ready to take such a course," he added.
When a Yorkshire Member asked if it would not be a great advantage, in dealing with all questions relating to road transport, if the various interests were so organized that they could present a complete policy to the Minister, Mr. Hore-Belisha observed, "It would be a great advantage in many eases if a untried taike could be put forward by the industry as a whole."
DRIVERS' RIGHT TO SEE POLICE BADGE.
DRIVERS of motor vehicles on the public highways, if stopped for any reason by a, policeman in plain clothes, are legally entitled to demand the production of a badge or warrant of identity. This important pronouncement was recently made in the House of Commons by the Home Secretary.
MORE GARAGES WANTED.
a suggestion that one of the rreasons which prompt many people to leave their vehicles on highways or in side streets was the exorbitant price charged by the majority of garages, Mr. Hore-Belisha replied :—" I hope that enterprising people will take advantage of the opportunity and install garages that are cheap. They would be both useful and profitable."
STANDING-TIME LIMITS FOR VEHICLES.
THE latest suggestion made regarding the period that motor vehicles may stand in busy streets is that, if unoccupied by their drivers, the limit should be 15 minutes, or no longer than to allow the setting down or picking up of passengers or freight. The Minister of Transport will not fix a uniform limit, but, so far as London is concerned, he is considering whether the regulations in force in Oxford Street and Piccadilly Circus, and short sections of streets leading into these thoroughfares, should be made in respect of other streets which are congested or where accidents are a frequent occurrence.
AXLE OVERLOADING UNJUSTIFIABLE.
THE Minister states that he has no power to comply with a request that no legal action should be taken when one axle of a vehicle is carrying more than its legal load although the laden weight is not exceeded and the load is safely distributed. He says that axle loads, as well as total weights oi vehicles, have to be taken into account in considering possible damage to roads and bridges. He has, however, referred representations, which have been made to him on this subject by the British Road Federation, to the Transport Advisory Council, and he will carefully consider any recommendation they may make.