BIG INCREASE IN R.H.A. MEMBERSHIP
21st December 1934
Page 49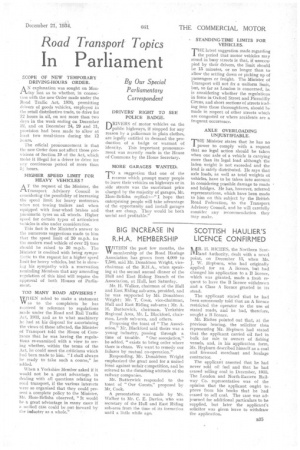 Page 49, 21st December 1934 —
BIG INCREASE IN R.H.A. MEMBERSHIP
Close
Keywords :
WFTHIN the past few months, the VV membership of the Road Haulage Association has grown from 4,000 to 7,500, said Mr. Donaldson Wright, vicechairman of the R.H.A., when speaking at the second annual dinner of the Hull and East Riding Branch of the Association, at Hull, last Saturday.
Mr. H. Walker, chairman of the Hull and East Riding sub-area, presided, and he was supported by Mr. Donaldson Wright ; Mr. T. Cook, vice-chairman, Hull and East Riding sub-area ; Mr. A. H. Butterwick, chairman, Yorkshire Regional Area, Mr. L. Blackford, chairman, Leeds sub-area, and others.
Proposing the toast of "The Association," Mr. Blackford said theirs Was a young industry, passing through a time of trouble. "Our association," he added, "exists to bring order where there is chaos. We want to remedy our failures by mutual co-operation."
Responding, Mr. Donaldson Wright emphasized the great need for a united front against unfair competition, and he referred to the disturbing attitude of the railway companies.
Mr. Butterwick responded to the toast of " Our Guests," proposed by Mr. Cook.
A presentation was made by Mr. Walker to Mr. C. E. Davies, who was secretary of the Hull and East Riding sub-area from the time of its formation until a little while ago.