GLASGOW BODIES TO BE BUILT LOCALLY
21st December 1934
Page 40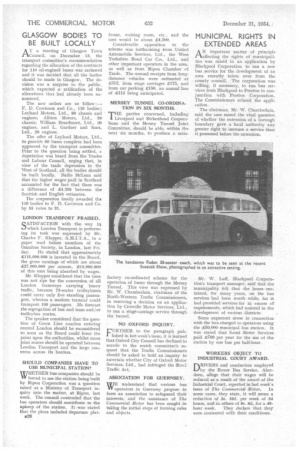 Page 40, 21st December 1934 —
GLASGOW BODIES TO BE BUILT LOCALLY
Close
AT a meeting of Glasgow Town Council, on December 13, the transport committee's recommendation regarding the allocation of the contracts for 110 oil-engined buses was "reviewed and it was decided that all the bodies should be made in Glasgow. The decision was a surprise to the public, which expected a ratification of the allocations that had already been announced.
The new orders are as follow :— F.. D. Cowieson and Co., 110 bodies ; Leyland Motors, Ltd., 60 chassis and engines; Albion Motors, Ltd., 50 chassis; .William Beardmore, Ltd., 30 engines. and L. Gardner and Sons, Ltd., 20 engines.
The offer of Leyland Motors, Ltd., to provide 60 buses complete had been approved by the transport committee. Prior to the question being settled, a deputation was heard from the Trades and Labour Council, urging that, in view of the trade depression in the West of Scotland, all the bodies should be built locally. Bailie McLean said that the higher wages paid in Scotland accounted for the fact that there was a difference of £4,205 between the Scottish and English estimates.
The corporation finally awarded th& 110 bodies to F. D. Cowieson and Co. by 55 votes to 31.