Trussed Concrete Steel Work,
21st December 1916
Page 5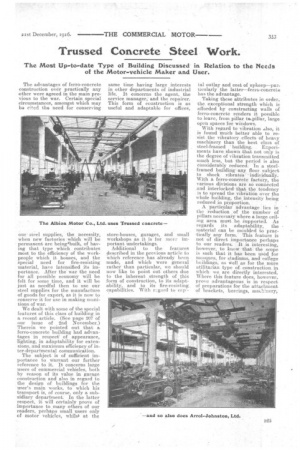 Page 6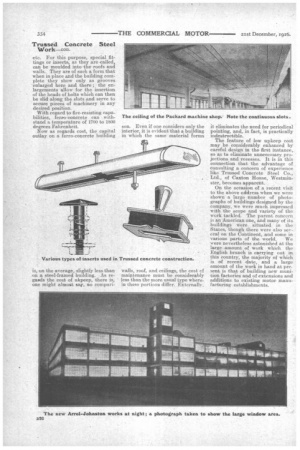 Page 5, 21st December 1916 —
Trussed Concrete Steel Work,
Close
The Most Up-to-date Type of Building Discussed in Relation to the Needs of the Motor-vehicle Maker and User.
The advantages of ferro-concrete construction over practically any other were agreed in the main previous to the war. Certain special circumstances, amongst which may be cited the need for conserving our steel supplies, the necessity, when new factories which will be permanent are beinebuilt, of having that type which contributes most to the efficiency of the workpeople which it houses, and the special need for fire-resisting material, have intensified its importance. After the war the need for all possible economy will be felt for some time, and it will be just as needful then to use our steel supplies for the manufacture of goods for export, as it is now to i conserve it for use n making munitions of war.
We dealt with some of the special features of this class of building in a. recent article. (See page 207 of our issue of 2nd November.) Therein we pointed out that a ferro-concrete building had advantages in respect' of appearance, lighting, in adaptability for extensions, and maximum efficiency of inter-departmental communication. The subject is of sufficient importance to warrant our further reference to it. It concerns large users of commercial vehicles, both by reason of its value in garage construction and also in regard to the design of buildings for the user's main works, to which his transport is, of course, only a subsidiary department. In the latter respect, it will certainly prove of importance to ,many others of our readers, perhaps small users only of motor vehicles, whilst at the same time having large interests in other departments of industrial life. It concerns the agent, the service manager,' and the repairer. This form of construction is as useful and adaptable for offices,
store-houses, garages, and small workshops as it is for 3110r2 important undertakings. Additional to the features described in the previous article to 'which reference has already been made, and which wore general rather than particular, we should now like to point out others due to the inherent strength of this form of construction, to its adaptability, and to its fire-resisting. capabilities. With iegarcl to cap.
tal outlay and cost, of upkeep—particularly the latter—ferro-concrete has the advantage.
Taking these attributes in order, the, exceptional strength which is afforded by constructing walls of ferro-concrete renders it possible to leave, from pillar ta.pillar, large open spaces for windows.
With regard to vibration also, it is found much better able to resist the vibratory .effects of heavy machinery than the best class of
steel-framed ' building. Experiments have shown that not only is the degree of vibration transmitted much less, but the period is also considerably reduced. In a steelframed building any floor subject to shock vibrates individually. With a ferro-concrete factory, the various divisions are so connected and interlocked that the tendency is to spread the vibration over the whole building, the intensity being reduced in proportion.
A, particular advantage lies in the reduction , of the number of pillars necessary where a large ceiling area must be Supported. As regards its adaptability, the material can be moulded to prac-tically any form. This feature is not of direct importance perhaps to our readers. It is interesting, howeyer, to know that the scope is such that, it has been used for mosques, for stadiums, and college buildings, as well as for the more utilitarian type of construction in which we are directly interested. Where this feature does, however, prove advantageous is in respect of preparations for the attachment of brackets, bearings, inat,Ilincry,
etc. For this purpose, special fittings or inserts, as they are called, can be moulded into the roofs and walls. They are of such a form that when in place and the building complete they show only as grooves 'enlarged here and there ; the enlargements allow for the insertion of the heads of bolts which can then. be slid along the slots and serve to secure pieces of machinery in any desired position.
With regard to fire-resisting capabilities, ferro-concrete can withstand a temperature of 1700 to 1800 degrees Fahrenheit. Now as regards cost, the capital outlay on a ferre-concrete building is, on the average, slightly less than on a steel-framed building. As regaxls the cost of ukpeep, there one might almost saiT, no compari son.Even if one considers only the interior, it is evident that a building in which the same material forms
walls, roof, and ceilings, the cost cf maiatenance must be considerably less than the more usual type wherein those portions differ. Externally,
it eliminates the need for periodical pointing, and, in fact, is practically indestructible.
The feature of low upkeep cost may be considerably enhanced by careful design in the first instance, so as to eliminate unnecessary projections and •recesses. It is in this connection that the advantage of consulting a concern of experience like Trussed Concrete Steel Co., Ltd., of Caxton House, Westminster, becomes apparent.
On the occasion of a recent. visit to the above address when we were shown a large number of phetographs of buildings designed by the company, we were much impressed with the scope and variety of the work tackled. The parent concern is an American one,. and many of its buildings were situated In the States, though there were also several on the Continent, and some in
various parts of the world. We were nevertheless astonished at the large • amount of work whieh the English branch is carrying out in this country, the majority of which is of recent date, and a large amount of the work in hand at present is that of building new munition factories and of extensions and additions to existing motor manufacturing establishments.