More About Conditions in Australia.
21st December 1916
Page 4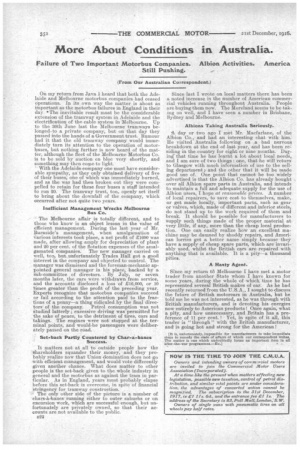 Page 4, 21st December 1916 —
More About Conditions in Australia.
Close
Failure of Two Important Motorbus Companies. Albion Activities. America Still Pushing.
On my return from Java I heard that both the Adelaide and Melbourne motorbus companies had ceased operations. In its own way the matter is about as important as the motorbus failures in England in their day. The inevitable result must be the considerable extension of the tramway system in Adelaide and the electrification of the cable system in Melbourne. Up to the 30th June last the Melbourne tramways belonged.to a private company, but on that day they passed into the hands of a Government trust. Rumour had it that the old tramway company would immediately turn its attention to the operation of motorbuses, but nothing further is now heard of the matter, although the fleet of the Melbourne Motorbus Co. is to be sold by auction en bloc very shortly, and something may then come to light. With the Adelaide company one must have considerable sympathy, as they only obtained delivery of five of their buses, ofie of which was immediately burned, and as the war had then broken out they were compelled to retain for these four buses a staff intended to run 20. The tramway trust, too, openly set itself to bring about the downfall of the company, which occurred after not quite two years.
Inefficient Management Wrecks Melbourne Bus Co.
The Melbourne affair is totally different, and to those who know is an object lesson in the value of efficient management. During the last year of Mr. l;turnside's management, when amalgamation of various interests took place, a net profit of 21600 WM made, after allowing amply for depreciation of plant and 20 per cent, of the flotation expenses of the amalgamated companies. The new manager carried on well, too, but unfortunately Trades Hall got a good interest in the company and objected to control. The manager was dismissed and the foreman-mechanic appointed general manager in his plane, backed by a sub-committee of directors. By July, or seven months later, the cars were withdrawn from service, and the accounts disclosed a loss of £16,000, or 10 times greater than the profit of the preceding year. Experts recognize that motorbus companies succeed or fail according to the attention paid to the fractions of a penny—a thing ridiculed by the final directors of the company. Petrol consumption was not studied latterly ; excessive driving was permitted for the sake of peace, to the detriment of tires, cars and takings. The engines were not stopped at the terminal points, and would-be passengers were deliberately passed on the road.
Set-back Partly Countered by Char.a.bancs Success.
It matters not at all to outside people how the shareholders squander their money, and they probably realize now that Union domination does not go with efficient management, and would vote differently given another chance. What does matter to other people is the set-back given to the whole industry in general and the motorbus as against the tram in particular. As in England, years must probably elapse before this set-back is overcome, in spite of financial -stringency for tramway eonatruction.
The only other side of the picture is a number of chars-h-banes running either to outer suburbs or on excursion work, which are successful enough, but unfortunately are privately owned, so that their accounts are not available to the public.
B22
Since last I wrote on local matters there has been a noted increase in the number of American commercial vehicles running throughout Australia. People are buying them now. The Moreland seems to be taking on well, and I have seen a number in Brisbane, Sydney and Melbourne.
Albions Taking Australia Seriously.
A. day or two ago I met Mr. Macfarlane, of the Albion Co_, and had an interesting chat with him.
He visited Australia following on bad nervous• breakdown at the end of last year, and has been residing in the country for eight or nine months. Dimlag" that time he has learnt a lot about local needs, and I am sure of two things : one, that he Will return to Glasgow with much information of use to the selling department and the other that it will be made good use of. dile point that cannot be too widely advertised is that the Albion Co. has already bought over all Albion spare parts in Australia, and intends to maintain a full and adequate supply for the use of Albion users, I hope at reasonable prim's. A number of local repairers, to save cost to themselves, make, or get made locally, important parts, such as gear or valves, which, made of different and inferior steels, do not stand up to the work required of them and break. It should be possible for manufacturers to supply such things made of the proper material at very little, if any, more than the cheap local production. One can easily realize how an excellent machine may be damned by shoddy repairs, and American lorries get a better name simply because they have a supply of cheap spare parts, which are invariably used, whilst the British cars are repaired with anything that is available. It is a pity—a thousand pities.
A Hasty Agent.
Since my return t6 Melbourne I have met a motor trader from another State whom I have known for some years, during the whole of which time he has represented several British makes of car. As he had recently returned from the U.S.A., I sought to discuss the future of British motorcars in Australia, but he told me he was not interested, as he was through with British manufacturers, and is devoting his energies now entirely to American products I Once again, what a pity, and how unnecessary, and Britain has a preference of ii per cent. I Yet, in spite of it all, this trader is "through" with the British manufacturer, and is going hot and strong for the American!
[It is, unfortunately, ImposEible for manufacturers to take immediate steps to remedy the state of affairs of which our correspondent writes. The matter is one which undoubtedly forms an important item in all after-the-war programmes.—En.]