One Hears— That it's late now to shop early.
21st December 1916
Page 3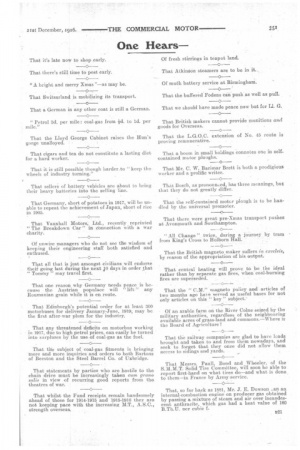 Page 3, 21st December 1916 —
One Hears— That it's late now to shop early.
Close
That there's still time to post early.
" A bright and merry Xmas "—as may be.
That Switzerland is mobilizing its transport.
That a German in any other coat is still a German.
"Petrol 3d. per mile : coal-gas from 4d. to id. per mile."
That the Lloyd George Cabinet raises the Hun's gorge unalloyed. • • That cigars and tea do not constitute a lasting diet for a hard. worker.
That it is still possible though harder.to "keep the wheels of industry turning," That. sellers of battery vehicles are about to bring their heavy batteries into the selling line.
That Germany, short of potatoes in 1917, will be unable to repeat the achievement of Japan, short of rice in 1905.
That Vauxhall Motors, Ltd., recently reprinted "The Breakdown Car" in Connection with a war charity.
Of unwise managers who do not see the wisdom of keeping their engineering staff both satisfied and enthused.
That all that is just amongst civilians will endorse their going last during the next 40 days in order that " Tommy ' may travel first..
That one reason why Germany needs peace is because the Austrian populace will "lift" any Roumanian grain while it is en route.
That Edinburgh's potential order for at least 300 motorbuses for delivery January-June, 1919; may be the first after-war plum for the industry.
That any threatened deficits on motorbus working hi 1917, due to high petrol prices, can easily be turned into surpluses by the use-of coal-gas as the fuel. .
That the subject of coal-gas fitments is bringing more and more inquiries and orders to both Bartons of Beeston and the Steel Barrel Co. of Uxbri•dge.
That statements by parties who are hostile to the chain drive must be increasingly taken C1417i. gran° salis in view of recurring good reports from the theatres of war.
That whilst the Fund receipts remain handsomely ahead of those for 1914-1915 and 1915-1916 they are not keeping pace with the increasing M.T., A.S.C., strength overseas. Of fresh stirrings in teapot land.
That Atkinson steamers are to be in it.
Of muth battery service at Birmingham.
That the buffered Fodens can push as well as pull.
That we should have made peace now but for U. G.
That British makers cannot provide munitions and goods for Overseas.
That the L.G.O.C. extension of No, 45 route is proving remunerative.
That a boom in small holdings connotes one in selfcontained motor ploughs.
That Mr. C. W. Barimar Brett is both a prodigious worker and a prolific writer.
That Bosch, as pronouneed, has three meanings, but that they do not greatly differ.
That. the self-contained moter plough is to be handled by the universal promoter.
That there were great pre-Xmas transport pushes at Avomnouth and Southampton.
"All Change" twice, during a journey by tram from King's Cross to Holborn Hall.
That the British magneto maker suffers in excelsis, by reason of the appropriation of his output.
That central heating will prove to be the ideal rather than by separate gas fires, when coal-burning fires are superseded.
That the " C.M." magneto policy and articles of two months ago haie served as useful bases for not only articles on this " key" subject..
• Of an arable farm on the River Colne seized by the military authorities, regardless of the neighbouring available acres of grass-land and commons.—Where ie the Board of Agriculture ?
That the railway companies are glad to have loads brought and taken to and from them nowadays, and seek to forget that they once did not allow them access to sidings and yards.
That Messrs. Paull, Bond and Wheeler, of the S.M.M.T. Solid Tire Committee, will soon be able to report first-hand on what tires do—and what is done to them—in France by Army 'service.
That, so far back as 1881, Mr. J'. E. Dowson an an internal-combustion engine on producer gas obtained by passing a, mixture of steam and air over incandescent anthracite, which gas had a heat value of 160 B.Th.U. ner cubic f.