The Supply Department.
21st December 1916
Page 17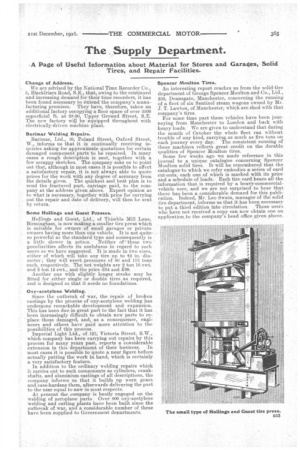 Page 17, 21st December 1916 —
The Supply Department.
Close
• A Page of Useful Information about Material for Stores and Garages, Solid Tires, and Repair Facilities.
Change of Address.
We are advised by the National Time Recorder Co., 5, Blackfriars Road, S.E., that, owing to the continued and increasing demand for their time recorders, it has been found necessary to extend the company's manufacturing premises. They have, therefore, taken an additional factory occupying a floor space of over 3500 superficial ft. at 88-90, Upper Ground Street, S.E. The new factory will be equipped throughout with electrically-driven machine plant.
Barimar Welding Repairs.
Barirnar, Ltd., 10, Poland Street, Oxford Street, W., informs us that it is continually receiving inquiries asking for approximate quotations for certain damaged component parts to be repaired. In many cases a rough description is sent, together with a few scrappy sketches. The company asks us to point out that, although in most cases it is possible to effect a satisfactory repair, it is not always able to quote prices for the work with any degree of accuracy from the details given. The quickest and bea plan is to send the fractured part, carriage paid, to the company at the address given above. Expert opinion as to what is necessary, together with price for carrying out the repair and date of delivery, will then be sent by return.
Some Hollings and Guest Presses.
Hollings and Guest, Ltd., of Thimble Mill Lane, Birmingham, is now making a smaller tire press which is suitable for owners of small garages or private owners having more than one vehicle. It is not quite so powerful as the standard type and consequently is a little slower in action. Neither of .`these two peculiarities affects its usefulness in regard to such users as we have suggested. It is made in two sizes, either of which will take any tire up to 42 in. diameter; they will exert_pressures of 80 and 113 tons each, respectively. The net weights are 2 ton 10 cwt. and 2 ton 15 cwt., and the price 284 and 289. Another one With slightly longer stroke may be fitted for either single or double tires as required, and is designed so that it needs no foundations.
Oxy-acetylene Welding.
Since the outbreak of war, the repair of broken castings by the process of oxy-acetylene welding has undergone remarkable development and expansion. This has been due in great part to the fact that it has been increasingly difficult to obtain new parts to replace those damaged, and, as a consequence, engineers and others have paid more attention to the possibilities of this process. Imperial Light Ltd., of 123, Victoria Street, S.W., which company has been carrying out repairs by this process for ninny years past, reports a considerable extension in this department of their business. In most cases it is possible to quote a near figure before actually putting the work in hand, which is certainly a very satisfactory feature. In addition to the ordinary welding repairs which it carries out to such components as cylinders, crankshafts, and aluminium castings of all descriptions, the company informs us that it builds up worn gears and case-hardens them, afterwards delivering the part to the user equal to new in most respects. At present the company is busily engaged on the welding of aeroplane parts Over 800 oxy-acetylene welding and cutting plants have been built since the outbreak of war, and a considerable number of these have been supplied to Government departments. Spencer Moulton Tires.
An interesting report reaches us from the solid-tire department of George Spencer Moulton and Co., Ltd., 239, Deansgate, Manchester, concerning the running of a fleet of six Sentinel steam wagons owned by Mr. J. T. Lawton, of Manchester, which are shod with that company's tires. For some time past these vehicles have been journeying from Manchester to London and back with heavy loads. We are given to understand that during the month of October the whole fleet ran without trouble of any kind, carrying as much as five tons on each journey every day. The consistent running of these machines reflects great credit on the durable 'qualities of Spencer Moulton tires.
Some few weeks ago we made reference in this Jo' Lanai to a unique catalogue concerning Spencer Moulton solid tires. It will be remembered that the catalogue-to which we refer embodies a series of card cut-outs each one of which is marked with its price and a schedule of loads. Each tire card bears all the information that is required by a heavy-commercialvehicle user, and we are not surprised to hear that there has been a considerable demand for this publication. Indeed, Mr. Leo Swain' manager of the solid tire department, informs us that it has been necessary to put a third edition into circulation. Those users who have not received a copy can now obtain one on application.to the company's head office given above.