Our Despatches from the Front (No. 119).
21st December 1916
Page 15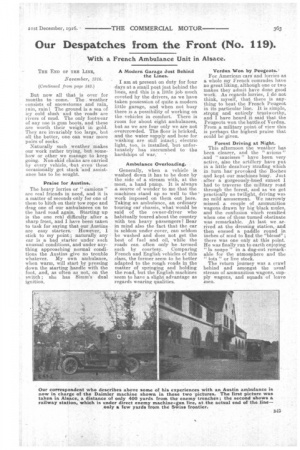 Page 15, 21st December 1916 —
Our Despatches from the Front (No. 119).
Close
With a French Ambulance Unit in Alsace.
But now all that is over for months to come. The weather consists of snowstorms and rain, rain, rain! The ground is a sea of icy cold slush and the roads are rivers of mud. The only footwear of any use is gum boots, and these are worth their weight in gold. They are invariably too large, but all the better, one can wear more pairs of socks.
Naturally such weather makes our work rather trying, but somehow or other we manage to keep going. Non-skid chains are carried by every vehicle, •but even these occasionally get stuck 'and assistance has to be sought.
Praise for Austins.
The heavy lorries or " earnions " are real friends in need, and it is a matter of seconds only far one of them to hitch on their tow rope and drag one of our ambulances on to the hard road again. Starting up is the one real difficulty after a. sharp frost, and .1 have been taken to task for saying that our Austins are easy starters. However, I stick to my point ; naturally any car is a bad starter under such unusual conditions, and under anything approaching normalconditions the Austins give no trouble whatever. My own ambulance, when warm, will start by pressing down the starting handle with the foot, and, as often as not, on the switch ; she has Simm's dual ignition.
A Modern Garage Just Behind the Lines.
I am at present on duty for four days at a small post just behind the lines, and this is a little job much coveted by the drivers, as we have taken possession of quite a modern little garage, and when not busy there is a possibility of working on the ,vehicles in comfort. There is room for about eight ambulances, but as we are four only we are not overcrowded. The floor is bricked, and the water supply and hose for washing are still Intact; electric light, too, is installed, but unfortunately has succumbed to the hardships of war,• •
Ambulance Overloading.• Generally, when a vehicle is washed down. it has to be done by the side of a stream with, at the most, a, hand pump. It is always a source of wonder to me that the machines stand up so well to the' work imposed on them out here. Taking an ambulance, an ordinary touring cat' chassis, what would be said of the owner-driver who habitually toured about the country with ten heavy passengers3 Bear in mind also the fact that the car is seldom under cover, can seldom be washed and does not get the best of fuel and oil, while the roads can often only be .termed such by courtesy. Comparing French and English vehicles of this class, the former seem to be better adapted to the rough roads in the matter of springing and holding the road, but the English machines seem to have a, slight advantage as regards wearing qualities. Verdun Won by Peugeots.?
For American cars and lorries as a whole my French comrades have no great liking, although one or two makes they admit have done good work. As regards lorries, I. do not think, myself, that there is anything to beat the French Peugeot in its particular line. It is simple, streng and entirely trustworthy, and I have heard it said that the Peugeots won the battleof Verdun. From a military point of view this is perhaps the highest praise that could be given.
Forest Driving at Night.
This afternoon the weather has been clearer, and the ' avions " and " saucisses " have been very active, also the artillery have put in a little desultory strafing which in turn hasprovoked the Boches and kept our machines busy. JuEt after a gorgeously-hued sunset I had to -traverse the military road through the forest, and as we get practically no twilight, driving was W
no mild amusement. e narrowly missed. a couple of ammunition wagons drawn by big black mules, and the confusion which resulted when one of these turned obstinate was remarkable_ At last we arrived at the dressing station,and then ensued a paddle round in inches of mud to find the "blesse" ; there was one only at this point.. He was finally run to earth enjoying " la soupe " in a dug-out remark. able for the atmosphere and the " tots" or live stock.
The return journey was a crawl behind and amongst the usual stream of ammunition wagons, supply wagons, mad squads of leave men.