your Payen-Hall wholesaler
21st August 1970
Page 66
Page 67
Page 68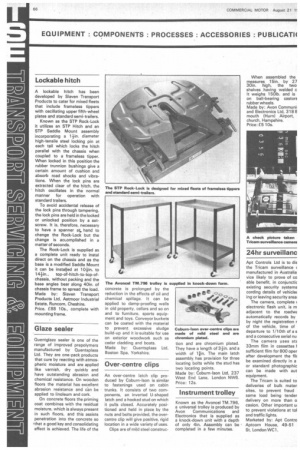 Page 66, 21st August 1970 —
your Payen-Hall wholesaler
Close
large flat and small convex irror are combined in the Bradex Twin-View mirror. rvo sizes are made, 8in. by Bin. rerall with a 4in. by 6in. flat ass and 21n. by Sin. convex ?low it and 12in. by Bin, with an n. by 6in, flat glass and 4in. r
Bin, convex.
The Twin-View performs the ime function as using two irrors of the different types on e same arm which has become >pular. Although the convex irrors take up a small °portion of the total surface each case they give more an three times the area of vision an their respective flat mirrors. A newly patented universal ling boss is designed to fit iy existing arm and the extra ngth of the boss combined with e use of high impact polystyrene ovides for ample vibration >sorption. Shatter-proof glass used and while the silver proissing is guaranteed for five :ars, the glasses are easily placed.
ade by: Bradville Ltd, Bradex 'orks, Huddersfield Road. Wyke, radford, Yorks.
-ice: 8in. by 6in" £1 14s: ain. by 6in.. E2.
learn deflectors
/ith the increasing number of UK abides travelling abroad Lucas ave added new Beam Deflectors ) its range. These fit rectangular eadlarnps and provide for the ipped beam to be directed as ?quired when driving on the right. The units consist of amber °loured, optically designed, liakon lenses, which deflect the earn of light from the headlight ) the right instead of the original ift-hand side. They can be easily nd quickly fitted by removing le headlight rim, clipping the :ns in position and replacing the m.
lade by: Joseph Lucas Ltd., irmingham.
rice: El 1 Os per pair.
ilanual screenwasher
s an addition to its range of Creenwash ers, Lucas now prouces the Manual Screenjet kit vailable in one-, twoor fourit capacity versions.
Each kit comprises a lightmight reservoir and manually operated pump, together with easy-to-fit adjustable nozzles. tubing and fixing screws. The lightweight container is made of unbreakable and transparent material for both safety and convenience, allowing the water level to be clearly visible. The Screenjet provides a fast effective operation, projecting two powerful jets on to the screen.
Recommended for use with the Screenjet is Crystal Clear screenwasher additive, which quickly , removes grease and traffic film. Made by: Joseph Lucas Ltd, Birmingham.
Prices: one-pint capacity kit, £1 15s; two-pint capacity kit. E2: four-pint capacity kit, E2 15s. Crystal Clear screenwash additive, 3s 9d per bottle.
High clench rivet
A one-piece all-steel high-clench rivet with applications in the electrical and electronics fields, general, engineering. metalworking, the motor industry, the heating trade and many other fields has been developed by Avdel. Known as the Briv, it can be placed at rates of up to 1500 per hour by means of a magazineloaded repetition-fed Briv pneumatic power tool.
Designed for blind placing where access is available or practical from one side of the work only, the Briv rivet allows the designer flexibility in the choice of materials and sections used in production. including hollow square, rectangular or tubular section, as well as sheet or plate. Rivets are offered in diameters of bin. or .Pein., the smaller being capable of gripping sheets with thicknesses from 0.036in. up to 0.125in, and the larger sheets with thicknesses from 0.036in. up to 0.190in.
Made by: Avdel Ltd. Welwyn Garden City, Herts.
Tube adaptors
Six adaptors have recently been added to the Doublem range made by Enots.
The new adaptors enable existing imperial dimensioned piping installations to be extended using metric sized tube and fittings. They enable a 4mm outside diameter tube to be connected to tin. overall diameter tube, 5mm to 4in., 6mm to lin.. 8mm to lin. and ain. and 12mm tube
to tube.
In all cases the metric side of the adaptor will accept an Enots Doublem sleeve and tubing nut while the imperial side is designed to fit directly into an Enots "inch" system fitting or port.
These, and the other 374 items in the Doublern range, are described in a new leaflet (list MCC470) which is in the form of a wall chart for use by designers, draughtsmen and engineers. It folds to A4 size for filing.
Made by: Enots Ltd, PO Box 228, Aston Brook St. Birmingham 6. A lockable hitch has been developed by Slaven Transport Products to cater for mixed fleets that include frameless tippers with oscillating upper fifth-wheel plates and standard semi-trailers.
Known as the STP Rock-Lock it utilizes an STP Hitch and an STP Saddle Mount assembly incorporating a 1-kin. diameter high-tensile steel locking pin at each tail which locks the hitch parallel with the chassis when coupled to a frameless tipper. When locked in this position the rubber trunnion bushings give a certain amount of cushion and absorb road shocks and vibrations. When the lock pins are extracted clear of the hitch, the hitch oscillates in the normal manner for operation with standard trailers.
To avoid accidental release of the lock pins through tampering, the lock pins are held in the locked or unlocked position by a setscrew. It is, therefore, necessary to have a spanner at hand to change the Rock-Lock but the change is accomplished in a matter of seconds.
The Rock-Lock is supplied as a complete unit ready to instal direct on the chassis and as the base is a modified Saddle Mount it can be instal,led at 101in. to
14-.in., top-of -hitch -to-top-ofchassis, without packing and the base angles bear along 40in. of chassis frame to spread the load. Made by: Slaven Transport Products Ltd, Astmoor Industrial Estate. Runcorn, Cheshire,
Price. £88 10s., complete with mounting frame.
Glaze sealer
Quentglaze sealer is one of the range of improved prepolymers manufactured by Quentsplass Ltd They are one-pack products that cure by reacting with atmospheric moisture and are applied like varnish, dry quickly and have outstanding abrasion and chemical resistance. On wooden floors the material has excellent abrasion resistance and can be applied to linoleum and cork.
On concrete floors the priming coat combines with the residual moisture, which is always present in such floors, and this assists penetration into the concrete so that a good key and consolidating effect is achieved. The life of the concrete is prolonged by the reduction in the effects of oil and chemical spillage. It can be applied to damp-proofing walls in old property, cellars and so on and to furniture, sports equipment and toys. Conveyor buckets can be coated with the material to prevent excessive sludge build-up and it is suitable for use on exterior woodwork such as cedar cladding and boats.
Made by: Quentsplass Ltd, Boston Spa, Yorkshire.
Over-centre clips
An over-centre latch clip produced by Coburn-lson is similar to fastenings used on cabin trunks. It consists of two components, an inverted U-shaped latch and a hooked stud on which it pulls closed. Accurately positioned and held in place by the nuts and bolts provided, the overcentre clip will give positive, rigid location in a wide variety of uses.
Clips are of mild steel construc
Coburn-lson over-centre clips are made of mild steel and are chromium plated.
tion and are chromium plated. They have a length of 34-in. and a width of 1;in. The main latch assembly has provision for three locating bolts while the stud has two locating points.
Made by: Coburn-lson Ltd, 237 West End Lane, London NW6. Price: 12s.
Instrument trolley
Known as the Avoncel TM.796, a universal trolley is produced by Avon Communications and Electronics that is supplied as a knock-down unit with a depth of only 4in. Assembly can be completed in a few minutes. Apt Controls Ltd is to dis the Tricam surveillance manufactured in Australia vice likely to prove of co able benefit, in conjunctic existing security systems cording details of vehicles ing or leaving security area The camera, complete electronic flash unit, is m adjacent to the roadwi automatically records by by night the registration r of the vehicle, time of departure to 1/10th of a s and a consecutive serial nu The camera uses sti 33mm film in cassettes sufficient film for 800 oper after development the fill be examined directly in a or standard photographic can be made with aut equipment.
The Tricam is suited to deliveries of bulk maten sites, to prevent fraud same load being tender delivery on more than o casion. Other important u: to prevent violations at tol and traffic lights.
Marketed by: Apt Contro Aptcorn House, 49-51 St, London WC1.