current production is equipped with a pilot injection system. For
21st August 1970
Page 63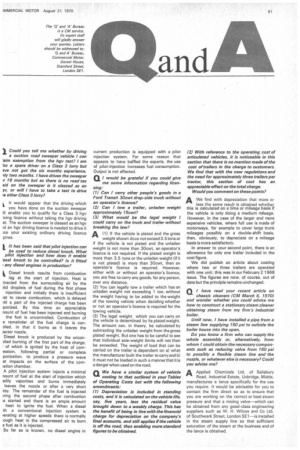 Page 63, 21st August 1970 —
current production is equipped with a pilot injection system. For
Close
some reason that appears to have baffled the experts, the use of pilot-injection increases fuel consumption. Output is not affected.
/ would be grateful if you could give me some information regarding licensing:
(1) Can I carry other people's goods in a Ford Transit 30cwt drop-side truck without an operator's licence?
(2) Can I tow a trailer, unladen weight approximately 15cwt?
(3) What would be the legal weight I could carry on the truck and trailer without breaking the law?
A 11) If the vehicle is plated and the gross weight shown does not exceed 3.5 tons or if the vehicle is not plated and the unladen weight is not more than 30cwt, an operator's licence is not required. If the plated weight is more than 3.5 tons or the unladen weight (if it is not plated) is more than 30cwt, then an operator's licence is required. However, either with or without an operator's licence, you are free to carry any goods, for any person. over any distance.
12) You can legally tow a trailer which has an unladen weight not exceeding 1 ton, without the weight having to be added to the weight of the towing vehicle when deciding whether or not an operator's licence is required for the towing vehicle.
(3) The legal weight which you can carry on the vehicle is determined by its plated weight. The amount can, in theory, be calculated by subtracting the unladen weight from the gross plated weight. But one has to be careful to see that individual axle-weight limits will not then be exceeded. The weight of load that can be carried on the trailer is dependent on a) what the manufacturer built the trailer to carry and b) it must not be loaded in such a manner that it is a danger when used on the road.