Albert B urrows
21st August 1970
Page 38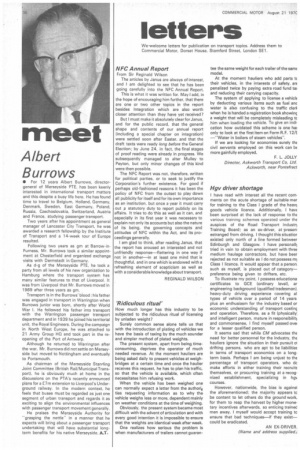 Page 38, 21st August 1970 —
Albert B urrows
Close
• For 12 years Albert Burrows, directorgeneral of Merseyside PTE. has been keenly interested in international transport matters and this despite a busy life here. He has found time to travel to Belgium, Holland. Germany. Denmark, Sweden, East Germany, Poland, Russia, Czechoslovakia, Switzerland. Austria and France, studying passenger transport.
Two years after his appointment as general manager of Lancaster City Transport, he was awarded a research fellowship by the Institute of Transport and a 14-week tour of Europe resulted.
Following two years as gm at Barrow-inFurness, Mr. Burrows took a similar appointment at Chesterfield and organized exchange visits with Darmstadt in Germany.
As d-g of the Merseyside PTE, he took a party from all levels of his new organization to Hamburg where the transport system has many similar features to that of Liverpool. It was from Liverpool that Mr. Burrows moved in 1969 after three years as gm.
Transport is in the Burrows' blood : his father was engaged in transport in Warrington when Burrows junior was born, shortly after World War I. He followed his father into transport with the Warrington passenger transport department and in 1939 he joined his territorial unit, the Royal Engineers. During the campaign in North West Europe, he was attached to 21 Army Group HO and took part in the reopening of the Port of Antwerp.
Although he returned to Warrington after the war, Mr. Burrows did not settle on Merseyside but moved to Nottingham and eventually to Portsmouth.
As chairman of the Merseyside Standing Joint Committee (British Rail/Municipal Transport), he is obviously much at home in the discussions on the PTA's recently announced plans for a £7 m extension to Liverpool's Underground railway. In the modern context, he feels that buses must be regarded as just one segment of urban transport and regards it as exciting to align the environmental influences with passenger transport movement generally.
He praises the Merseyside Authority for "grasping the nettlein a manner that he expects will bring about a passenger transport undertaking that will have substantial longterm benefits for his native Merseyside. A.T.