Benchwise: Lathe sense (27)
21st August 1970
Page 37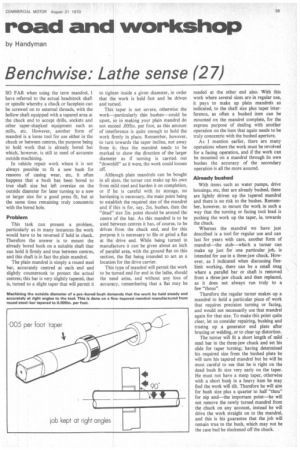 Page 37, 21st August 1970 —
Benchwise: Lathe sense (27)
Close
SO FAR when using the term mandrel, I have referred to the actual headstock shaft or spindle whereby a chtiek or faceplate can be screwed on to external threads, with the hollow shaft equipped with a tapered area at the chuck end to accept drills, sockets and other taper-shanked equipment such as mills, etc. However, another form of mandrel is a loose tool for use either in the chuck or between centres, the purpose being to hold work that is already bored but which, however, is still in need of accurate outside machining.
In vehicle repair work where it is not always possible to fit a new bush for reasons of casing wear, etc, it often happens that a bush has been bored to true shaft size but left oversize on the outside diameter for later turning to a new or larger size for a good press fit, but at the same time remaining truly concentric with the bored hole.
This task can present a problem, particularly as in many instances the work would have to be reversed if held in check. Therefore the answer is to mount the already bored bush on a suitable shaft that can hold it firmly and true between centres, and this shaft is in fact the plain mandrel.
The plain mandrel is simply a round steel bar, accurately centred at each end and slightly countersunk to protect the actual centres; this bar is very slightly tapered, that is, turned to a slight taper that will permit it to tighten inside a given diameter, in order that the work is held fast and be driven and turned.
This taper is not severe, otherwise the work—particularly thin bushes—could be upset, so in making your plain mandrel do not exceed .00.5in. per foot, as this amount of interference is quite enough to hold the work firmly in place. Remember, however, to turn towards the taper incline, not away from it; thus the mandrel needs to be marked to show the direction of the larger diameter as if turning is carried. out "downhill" as it were, the work could loosen off Although plain mandrels can be bought in all sizes, the turner can make up his own from mild steel and harden it on completion, or if he is careful with its storage, no hardening is necessary, the main point being to establish the required size of the mandrel and if this is for, say, 2in. bushes, then the "dead" size 2in. point should be around the centre of the bar. As this mandrel is to be used between centres it has, of course, to be driven from the chuck end, and for this purpose it is necessary to file or grind a fiat at the drive end. While being turned in manufacture it can be given about an inch of parallel area, with the ground flat on this section, the flat being intended to act as a location for the drive carrier.
This type of mandrel will permit the work to be turned end for end in the lathe, should the need arise, and without any loss of accuracy, remembering that a flat may be needed at the other end also. With this work where several sizes are in regular use, it pays to make up plain mandrels as indicated, to the shaft size plus taper interference, as often a bushed item can be mounted on the mandrel complete, for the express purpose of dealing with another operation on the item that again needs to be truly concentric with the bushed aperture.
As I mention earlier, there are many operations where the work must be revolved for a facing operation, and if the work can be mounted on a mandrel through its own bushes the accuracy of the secondary operation is all the more assured.
Already bushed
With items such as water pumps, drive housings, etc, that are already bushed, these are lightly driven up the tapered mandrel and there is no risk to the bushes. Remember, however, to mount the work in such a way that the turning or facing tool load is pushing the work up the taper, ie, towards the chuck.
Whereas the mandrel we have just described is a tool for regular use and can last for years with care, another form of mandrel—the stub—which a turner can make up just for one particular job, is intended for use in a three-jaw chuck. However, as 1 indicated when discussing finelimit working, there can be a small snag where a parallel bar or shaft is removed from a three-jaw chuck and then replaced, as it does not always run truly to a few "thous" Therefore the regular turner makes up a mandrel to hold a particular piece of work that requires precision turning or facing, and would not necessarily use that mandrel again for that size. To make this point quite clear, let us consider repairing, bushing and trueing up a generator end plate after brazing or welding, or to clear up distortion.
The turner will fit a short length of mild steel bar in the three-jaw chuck and set his slide for taper turning; having determined his required size from the bushed plate he will turn his tapered mandrel but he will be most careful to see that he is right on the dead bush fit size very early on the taper. He must not have a steep taper, otherwise with a short bush in a heavy item he may find the work will tilt. Therefore he will aim for bush size plus a quarter to half "thou" for nip and—the important point—he will not remove the newly turned mandrel from the chuck on any account, instead he will drive the work straight on to the mandrel, and this is his guarantee that the job will remain true to the bush, which may not be the case had he slackened off the chuck. .