lance for West Mid PTE
21st August 1970
Page 31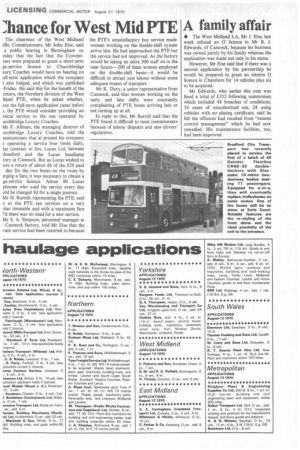 Page 31, 21st August 1970 —
lance for West Mid PTE
Close
The chairman of the West Midland Mc Commissioners, Mr John Else, said a public hearing in Birmingham on inday that the fact that the Commisrters were prepared to grant a short-term ge-service licence to Churchbridge Kury Coaches would have no bearing on till-term application which the company also lodged, and which was published Friday. He said this for the benefit of the ectors, the Northern division of the West Hand PTE, when he asked whether, ore the full-term application came before the PTE would consider providing an titical service to the one operated by urchbridge Luxury Coaches.
Mr F. Allman, the managing director of urchbriclge Luxury Coaches, told the mrnissioners that at present his company s operating a service four times daily, ier contract to Jos. Lucas Ltd, between dnesford and the Lucas headlamp tory at Cannock. But as Lucas wished to ure a return of about £6 of the £20 paid • day for the two buses on the route by irging a fare, it was necessary to obtain a ge-service licence. About 80 Lucas ployees who used the service every day uld be charged 9d for a single journey. Mr H. Burrell, representing the PTE, said it as the PTE ran services on a very iilar timetable and with a maximum fare 7d there was no need for a new service. Mr S. A. Simpson, personnel manager at : Cannock factory, told Mr Else that the vate service had been resorted to because the PTE's unsatisfactory bus service made women working on the double-shift system arrive late. He had approached the PTE but the service had not improved. As the factory would be taking an extra 300 staff on in the near future-200 of them women employed on the double-shift basis—it would be difficult to attract new labour without some adequate means of transport.
Mr K. Davy, a union representative from Cannock, said that women working on the early and late shifts were constantly complaining of PTE buses arriving late or not turning up at all.
In reply to this, Mr Burrell said that the PTE found it difficult to meet commitments because of labour disputes and new drivers' regulations.