0-licence applicant 'learned lesson'
21st August 1970
Page 30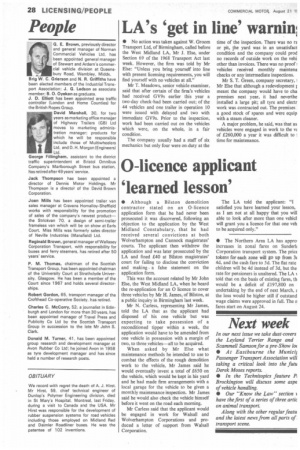 Page 30, 21st August 1970 —
0-licence applicant 'learned lesson'
Close
• Although a Bilston demolition contractor stated on an _ 0-licence application form that he had never been prosecuted it was discovered, following an objection to the application by the West Midland Constabulary, that he had received several convictions at both Wolverhampton and Cannock magistrates' courts. The applicant then withdrew the application and was later prosecuted by the LA and fined £40 at Bilston magistrates' court for failing to disclose the conviction and making a false statement on the application form.
This was the account related by Mr John Else, the West Midland LA, when he heard the re-application for an 0 licence to cover three vehicles by Mr H. James, of Bilston, at a public inquiry in Birmingham last week.
Mr N. Carless, representing Mr James, told the LA that as the applicant had disposed of his one vehicle 'but was expecting to take possession of a reconditioned tipper within a week, the application would have to be amended from one vehicle in possession with a margin of two, to three vehicles—all to be acquired.
When asked by Mr Else what maintenance methods he intended to use to combat the effects of the rough demolition work to the vehicle, Mr James said he would eventually invest a total of £650 on the vehicle, which would be kept in his yard and he had made firm arrangements with a local garage for the vehicle to be given a monthly maintenance inspection. Mr James said he would also check the vehicle himself before it went on the road each morning.
Mr Carless said that the applicant would be engaged in work for Walsall and Wolverhampton Corporations and produced a letter of support from Walsall Corporation. The LA told the applicant: "I satisfied you have learned your lesson, as I am not at all happy that you will able to look after more than one vehict will grant you a licence for that one veh to be acquired only."
• The Northern Area LA has appra increases in zonal fares on Sunderk Corporation transport system. The price tokens for each zone will go up from 3c 4d, and the cash fare to 5d. The flat rate children will be 4d instead of 3d, but the rate for pensioners is unaltered. The LA told that on the basis of existing fares, th would be a deficit of £197,800 on undertaking by the end of next March, the loss would be higher still if outstand wage claims were approved in full. The n fares start on August 24.