31asgow bus fares nay go up by D-day
21st August 1970
Page 29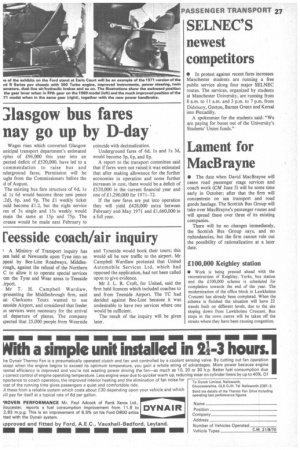 Page 29, 21st August 1970 —
31asgow bus fares nay go up by D-day
Close
Wages rises which converted Glasgow unicipal transport department's estimated rplus of £96.000 this year into an pected deficit of £520,000. have led to a commendation to raise bus and nderground fares. Permission will be .ught from the Commissioners before the id of August.
The existing bus fare structure of 6d, is id Is 6d would become three new pence .2d), 6p, and 9p. The £1 weekly ticket ould become £1.2, but the night service res of 3s single and 15s weekly would main the same at 15p and 75p. The crease would be made next February to coincide with decimalization.
Underground fares of 6d, Is and Is 3d. would become 3p, 6p, and 8p.
A report to the transport committee said that if fares were not raised it was estimated that after making allowance for the further economies in operation and some further increases in cost. there would be a deficit of £520.000 in the current financial year and one of £1,290,000 for 1971-72.
If the new fares are put into operation they will yield £428,000 extra between February and May 1971 and £1,660,000 in a full year.