Who will be Mr Lorryman 1970?
21st August 1970
Page 26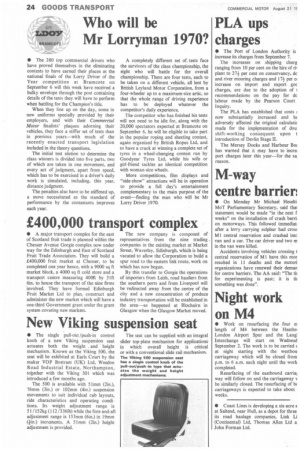 Page 26, 21st August 1970 —
Who will be Mr Lorryman 1970?
Close
• The 280 top commercial drivers who have proved themselves in the eliminating contests to have earned their places at the national finals of the Lorry Driver of the Year competition at Bramcote on September 6 will this week have received a bulky envelope through the post containing details of the tests they will have to perform when battling for the Champion's title.
When they line up on the day, some in new uniforms specially provided by their employers, and with their Commercial Motor finalists' plaques adorning their vehicles, they face a stiffer set of tests than in previous years—with much of the recently enacted transport legislation included in the theory questions.
The initial test section to determine the class winners is divided into five parts, two of which are taken in one movement, and every act of judgment, apart from speed, which has to be exercised in a driver's daily work is simulated, including, this year, distance judgment.
The penalties also have to be stiffened up, a move necessitated as the standard of performance by the contestants improves each year. A completely different set of, tests face the survivors of the class championship, the eight who will battle for the overall championship. There are four tests, each to be taken on a different vehicle, all lent by British Leyland Motor Corporation, from a four-wheeler up to a maximum-size artic, so that the whole range of driving experience has to be deployed whatever the competitor's daily experience.
The competitor who has finished his tests will not need to be idle for, along with the 20,000 spectators expected at Bramcote on September 6, he will be eligible to take part in the popular roping and sheeting contest, again organized by British Ropes Ltd, and to have a crack at winning a complete set of tyres in a wheel-changing contest run by Goodyear Tyres Ltd, while his wife or girl-friend tackles an identical competition with woman-size wheels.
More competitions, film displays and "side-show" attractions will be in operation to provide a full day's entertainment complementary to the main purpose of the event—finding the man who will be Mr Lorry Driver 1970.