Chree-card trick
21st August 1970
Page 25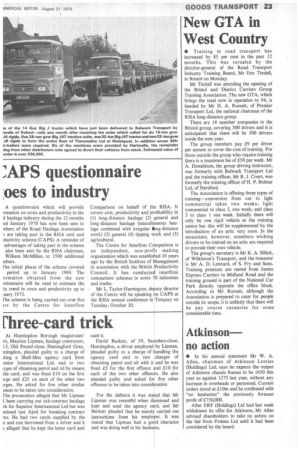 Page 25, 21st August 1970 —
Chree-card trick
Close
At Huntingdon Borough magistrates' irt, Maurice Lipman. haulage contractor, 13. Old Pound-close, Hemingford Grey, ntingdon, pleaded guilty to a charge of sling a Shell-Mex agency card from nrior International Ltd, and to two trges of obtaining petrol and oil by means the card. and was fined £10 on the first irge and £25 on each of the other two trges. He asked for five other similar .nces to be taken into consideration.
The prosecution alleged that Mr Lipman I been carrying out sub-contract haulage rk for Superior International Ltd but was missed last APril for breaking contract ms. He had two cards supplied by the n and one borrowed from a driver and it s alleged that he kept the latter card and used it, David Beckett, of 39. Saunders-close, Huntingdon, a driver employed by Lipman, pleaded guilty to a charge of handling the agency card and to two charges of obtaining petrol and oil with it and he was fined £5 for the first offence and £10 for each of the two other offences. He also pleaded guilty and asked for five other offences to be taken into consideration.
For the defence it was stated that Mr Lipman was resentful when dismissed and kept and used the agency card, and Mr Beckett pleaded that he merely carried out instructions from his employer. It was stated that Lipman had a good character and was doing well in his business.