New integration stage at British Leyland
21st August 1970
Page 24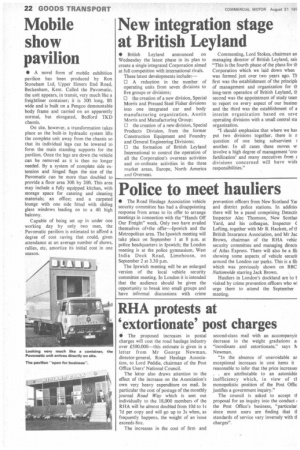 Page 24, 21st August 1970 —
New integration stage at British Leyland
Close
• British Leyland announced on Wednesday the latest phase in its plan to create a single integrated Corporation aimed at full competition with international rivals.
These latest developments include: O A reduction in the number of operating units from seven divisions to five groups or divisions; O the creation of a new division, Special Morris and Pressed Steel Fisher divisions into one integrated car and body manufacturing organization, Austin Morris and Manufacturing Group; O the creation of a new division. Special Products Division, from the former Construction Equipment and Foundry and General Engineering Divisions;
O the formation of British Leyland International to control the operation of all the Corporation's overseas activities and co-ordinate activities in the three market areas, Europe, North America and Overseas.
Commenting, Lord Stokes, chairman an managing director of British Leyland, saic "This is the fourth phase of the plans for th Corporation which we laid down when was formed just over two years ago. TE first was the establishment of the principh of management and organization for th long-term operation of British Leyland, tb second was the appointment of study team to report on every aspect of our busine; and the third was the establishment of a interim organization based on seve operating divisions with a small central sta organization.
"I should emphasize that where we has put two divisions together, there is r question of one being subservient another. In all cases these moves w involve a high degree of management 'era fertilization' and many executives from divisions concerned will have with responsibilities."