Common Market transport probe
21st August 1970
Page 23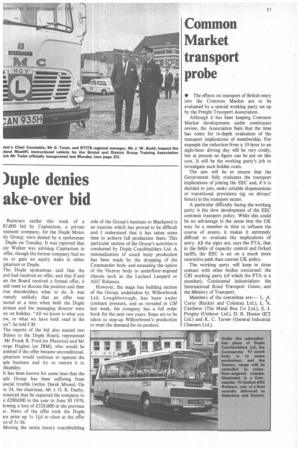 Page 23, 21st August 1970 —
Common Market transport probe
Close
• The effects on transport of British entry into the Common Market are to be evaluated by a special working party set up by the Freight Transport Association.
Although it has been keeping Common Market developments under continuous review. the Association feels that the time has come for in-depth evaluation of the transport implications of membership. For example the reduction from a 10-hour to an eight-hour driving day will be very costly, but at present no figure can be put on this cost. It will be the working party's job to investigate such hidden costs.
The aim will be to ensure that the Government fully evaluates the transport implications of joining the EEC and, if it is decided to join, seeks suitable dispensations or transitional provisions (eg on drivers' hours) in the transport sector.
A particular difficulty facing the working party is the slow development of the EEC common transport policy. While this could be an advantage in the sense that the UK may be a member in time to influene the course of events, it makes it extremely difficult to evaluate the implications of entry. All the signs are, says the ETA, that in the fields of capacity control and forked tariffs, the EEC is set on a much more restrictive path than current UK policy.
The working party will keep in close contact with other bodies concerned: the CBI working party (of which the FTA is a member); Continental industrialists: the International Road Transport Union; and the Ministry of Transport.
Members of the committee are:— L. A. Carey (Reckitt and Coleman Ltd.), L. A. Castleton (The Metal Box Co Ltd.), E. J. Frogley (Unilever Ltd.), D. R. Hunter (ICI Ltd.) and K. C. Turner (General Industrial Cleaners Ltd.).