Steps of in
21st August 1970
Page 21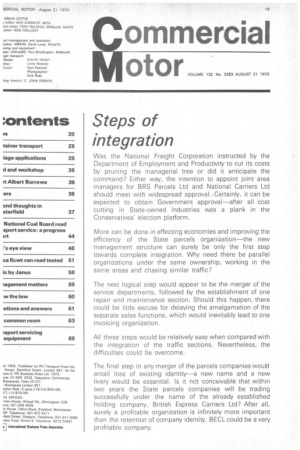 Page 21, 21st August 1970 —
Steps of in
Close
Was the National Freight Corporation instructed by the Department of Employment and Productivity to cut its costs by pruning the managerial tree or did it anticipate the command? Either way, the intention to appoint joint area managers for BRS Parcels Ltd and National Carriers Ltd should meet with widespread approval. Certainly, it can be expected to obtain Government approval—after all cost cutting in State-owned industries was a plank in the Conservatives' election platform.
More can be done in effecting economies and improving me efficiency of the State parcels organization—the new management structure can surely be only the first step towards complete integration. Why need there be parallel organizations under the same ownership, working in the same areas and chasing similar traffic?
The next logical step would appear to be the merger of the service departments, followed by the establishment of one repair and maintenance section. ShouId this happen, there could be little excuse for delaying the amalgamation of the separate sales functions, which would inevitably lead to one invoicing organization.
All these steps would be relatively easy when compared with the integration of the traffic sections. Nevertheless, the difficulties could be overcome.
The final step in any merger of the parcels companies would entail loss of existing identity—a new name and a new livery would be essential. Is it not conceivable that within two years the State parcels companies will be trading successfully under the name of the already established holding company, British Express Carriers Ltd? After all, surely a profitable organization is infinitely more important than the retention of company identity. BECL could be a very profitable company.