MAN XLX could see off ERF
20th October 2005
Page 14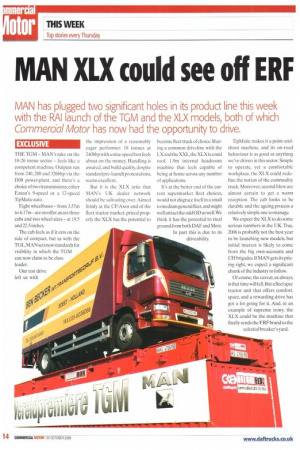 Page 14, 20th October 2005 —
MAN XLX could see off ERF
Close
MAN has plugged two significant holes in its product line this week with the RAI launch of the TGM and the XLX models, both of which Commercial Motor has now had the opportunity to drive.
EXCLUSIVE
THE TGM — MAN's take on the 18-26 tonne sector — feels like a competent machine. Outputs run from 240,280 and 326bhp via the D08 power-plant. and there's a choice of two transmissions; either Eaton's 9-speed or a 12-speed TipMatic auto.
Eight wheelbases — from 3.57m to 6.17m— are on offer. as are three cabs and two wheel sizes — at 19.5 and 22.5 inches The cab feels as if it errs on the side of compact, but as with the TGL,M AN sets new standards for visibility in which the TGM Can now claim to be class leader.
Our test drive left us with the impression of a reasonably eager performer: 18 tonnes at 240bhp with a nine-speed box feels about on the money. Handling is assured, and build quality, despite standard pre-launch protestations, seems excellent But it is the XLX artic that MAN's UK dealer network should be salivating over. Aimed lirmly at the CF/Axor end of the fleet tractor market, priced properly the XLX has the potential to become fleet truck of choice. Sharing a common drivelinc with the LX and the XXL,the XLX is a mid roof, 1.9m internal headroom machine that feels capable of being at home across any number of applications.
It's at the better end of the current supermarket fleet choices, would not disgrace itself in a small to medium general fleetand might well attract the odd OD as well.We think it has the potential to steal ground from both DAF and Mere. In part this is due to its driveability. TipMatic makes it a point-andshoot machine, and its on-road behaviour is as good as anything we've driven in this sector. Simple to operate, yet a comfortable workplace, the XLX could redefine the notion of the commodity truck. Moreover, second lifers are almost certain to get a warm reception. The cab looks to be durable and the ageing process a relatively simple one to manage.
We expect the XLX to do some serious numbers in the UK. True, 2006 is probably not the best year to be launching new models, but initial interest is likely to come from the big own-accounts and CH brigades. If MAN gets its pricing right, we expect a significant chunk of the industry to follow.
Of course, the caveat, as always, is that time will tell. But a fleet spec tractor unit that offers comfort, space, and a rewarding drive has got a lot going for it. And, in an example of supreme irony, the XLX could be the machine that finally sends the ERF brand to the celestial breaker's yard.